Cookie Monster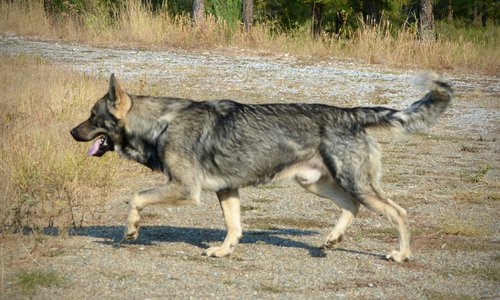 Cookie Monster
| | |
| --- | --- |
| Registration Number: | EMe4001-1 |
| Registry: | IADR |
| Call Name: | Cookie Monster |
| Registrated Name: | Vallecito's Cookie Monster |
| Titles: | |
| Breeder: | DireWolf Dogs of Vallecito |
| Breed: | American Dirus |
| Filial Number: | F4 |
| Birth Date: | June 7, 2022 |
| Sex: | Male |
| Collar Color: | Blue |
| Sire: | Essex |
| Dam: | Meriwether |
| Litter: | Sesame Street Litter |
| DNA Record: | View DNA Record |
| | Call Name | Registered Name | Registration # | Birth Date | Sex | Sire | Dam | Breed | Filial # |
| --- | --- | --- | --- | --- | --- | --- | --- | --- | --- |
| | Call Name | Registered Name | Registration # | Birth Date | Sex | Sire | Dam | Breed | Filial # |
| --- | --- | --- | --- | --- | --- | --- | --- | --- | --- |
| View | Abby | Vallecito's Abby Cadabby | Eme4001-3 | 2022-Jun-07 | Female | Essex | Meriwether | American Alsatian | F4 |
| View | Clementine | Vallecito's Clementine | Eme4001-4 | 2022-Jun-07 | Female | Essex | Meriwether | American Dirus | F4 |
| View | Dawn | Vallecito's Prairie Dawn | Eme4001-2 | 2022-Jun-07 | Female | Essex | Meriwether | American Dirus | F4 |
| View | Maria | Vallecito's Maria | Eme4001-5 | 2022-Jun-07 | Female | Essex | Meriwether | American Alsatian | F4 |
Cookie Monster is a healthy dog with no indication of any unsoundness in his overall structure. His legs extend straight down without a tendency toward cow hocks. He has not had any tremors, seizures, weakness in the legs or feet, limping, panosteitis symptoms, issues with his eyes or ears, excessive scratching or other allergy symptoms, soft stools, etc. He runs, jumps, lopes, lies down, etc without any difficulty. He is extremely healthy and vibrant. 
Cookie Monster had a neurological reaction to mold as a puppy. This poisoning lasted a week, after which he returned to normal.
This puppy is calm and collected. He is not in your face, but stands back, waits and watches. This puppy is confident, but is not an explorer. He would rather stay in the familiar than boldly go where no dog has gone before. This puppy loves attention and affection, but isn't overbearing about it. He has a sort of aloofness to him that doesn't lend itself to getting in someone's face or crowding. This puppy is quiet and self-confident, but isn't bold. He wags his tail when spoken to and cocks his head, but doesn't immediately get up and come over. This is a sing of calmness in mind and spirit. A great combination of behaviors in this puppy.
Cookie Monster is impatient. He whines loudly when it is time for dinner or wants to get out to go for a walk. This trait is genetic. We will be working to eliminate this from his line as we move forward.
Cookie Monster holds all of the genetics per DNA that we look to increase in the Dire Wolf Project. He is a giant in size with heavy muscling. He also has a long coat without feathering or furnishings. Cookie Monster holds the wolf mask which presents as a black muzzle at birth, then lightens up in the first twelve weeks of life. Cookie Monster has thick, round bone structure and a large head. He also has a short tail, not long and sweeping. Cookie is a heavy dog weighing over 115 lbs as a 9 month old puppy. Cookie has one erect ear (left), but the other did not rise.