Meriwether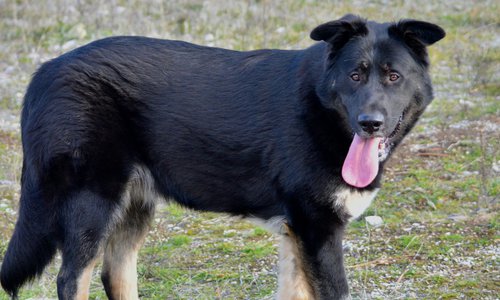 Meriwether
For Sale - $1200.00
Please contact us directly by email if you are interested in learning more about Meriwether.
jennifer@direwolfproject.com
| | |
| --- | --- |
| Registration Number: | KR5001-2 |
| Registry: | IADR |
| Call Name: | Meriwether |
| Registrated Name: | Vallecito's Meriwether Lewis |
| Titles: | |
| Breeder: | DireWolf Dogs of Vallecito |
| Breed: | American Dirus |
| Filial Number: | F5 |
| Birth Date: | March 2, 2021 |
| Sex: | Female |
| Collar Color: | Purple |
| Sire: | Kodiak |
| Dam: | Razar |
| DNA Record: | View DNA Record |
| | Call Name | Registered Name | Registration # | Birth Date | Sex | Sire | Dam | Breed | Filial # |
| --- | --- | --- | --- | --- | --- | --- | --- | --- | --- |
| View | Mr. Rogers (Scott/Walker) | Vallecito's Mr. Rogers | EMe4002-6 | 2023-Feb-02 | Male | Essex | Meriwether | American Dirus | F4 |
| View | Clemmons (Carolina B) | Vallecito's Officer Clemmons | EMe4002-4 | 2023-Feb-02 | Male | Essex | Meriwether | American Dirus | F4 |
| View | Daniel (Alyssa) | Vallecito's Daniel, Striped Tiger | EMe4002-8 | 2023-Feb-02 | Male | Essex | Meriwether | American Dirus | F4 |
| View | Friday (Richard C.) | Vallecito's King Friday XIII | EMe4002-3 | 2023-Feb-02 | Male | Essex | Meriwether | American Dirus | F4 |
| View | Maggie | Vallecito's Maggie Stewart | EMe4002-1 | 2023-Feb-02 | Female | Essex | Meriwether | American Dirus | F4 |
| View | Audrey (Susan W.) | Vallecito's Miss Audrey | EMe4002-2 | 2023-Feb-02 | Female | Essex | Meriwether | American Dirus | F4 |
| View | X | Vallecito's X the Owl (Beth) | EMe4002-7 | 2023-Feb-02 | Male | Essex | Meriwether | American Dirus | F4 |
| View | Lady Elaine | Vallecito's Lady Elaine | EMe4002-5 | 2023-Feb-02 | Female | Essex | Meriwether | American Dirus | F4 |
| View | Aberlin (Jill B) | Vallecito's Lady Aberlin | EMe4002-11 | 2023-Feb-02 | Female | Essex | Meriwether | American Dirus | F4 |
| View | Abby | Vallecito's Abby Cadabby | Eme4001-3 | 2022-Jun-07 | Female | Essex | Meriwether | American Alsatian | F4 |
| View | Dawn | Vallecito's Prairie Dawn | Eme4001-2 | 2022-Jun-07 | Female | Essex | Meriwether | American Dirus | F4 |
| View | Maria | Vallecito's Maria | Eme4001-5 | 2022-Jun-07 | Female | Essex | Meriwether | American Alsatian | F4 |
| View | Clementine | Vallecito's Clementine | Eme4001-4 | 2022-Jun-07 | Female | Essex | Meriwether | American Dirus | F4 |
| View | Cookie Monster | Vallecito's Cookie Monster | EMe4001-1 | 2022-Jun-07 | Male | Essex | Meriwether | American Dirus | F4 |
| | Call Name | Registered Name | Registration # | Birth Date | Sex | Sire | Dam | Breed | Filial # |
| --- | --- | --- | --- | --- | --- | --- | --- | --- | --- |
| View | Buffalo Bill | Vallecito's Buffalo Bill | KR5001-6 | 2021-Mar-02 | Male | Kodiak | Razar | American Alsatian | F5 |
| View | Eli | Vallecito's Jeremiah Johnson | KR5001-8 | 2021-Mar-02 | Male | Kodiak | Razar | American Alsatian | F5 |
| View | Fannie | Vallecito's Fannie Quigley | KR5001-5 | 2021-Mar-02 | Female | Kodiak | Razar | American Alsatian | F5 |
| View | Grizzly Adams | Vallecito's Grizzly Adams | KR5001-1 | 2021-Mar-02 | Male | Kodiak | Razar | American Alsatian | F5 |
| View | Jane | Vallecito's Calamity Jane | KR5001-10 | 2021-Mar-02 | Female | Kodiak | Razar | American Alsatian | F5 |
| View | Klondike | Vallecito's Klondike Gold | KR5001-4 | 2021-Mar-02 | Male | Kodiak | Razar | American Alsatian | F5 |
| View | Mary | Vallecito's Stagecoach Mary | KR5001-3 | 2021-Mar-02 | Female | Kodiak | Razar | American Alsatian | F5 |
| View | Santiago | Vallecito's Santiago | KR5001-9 | 2021-Mar-02 | Male | Kodiak | Razar | American Alsatian | F5 |
| View | Savanna | Vallecito's Savanna Sunrise | KR5001-7 | 2021-Mar-02 | Female | Kodiak | Razar | American Alsatian | F5 |
Meriwether has not had any tremors, seizures, weakness in the legs or feet, issues with her eyes or ears, excessive scratching or other allergy symptoms, soft stools, etc. She runs, jumps, lopes, lies down, etc without any difficulty. She had mild panosteitis symptoms (growing pains) for one month when she was nine months old. During this month, she limped on her left front leg. She has not had any other illnesses and is extremely healthy and vibrant. 
Medical History:
Panosteitis symptoms (Nov. 2021 to Dec. 2021)
born: 03-02-2021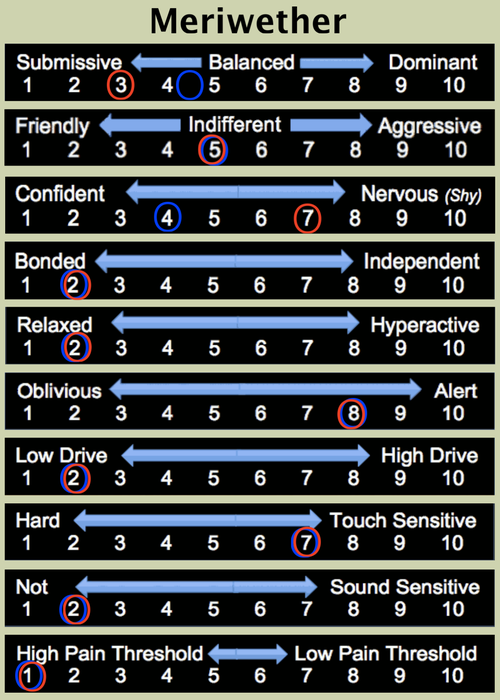 blue = ideal American Dirus temperament
red = Meriwether's temperament
Meriwether is an extremely smart dog with a calm, devoted sweetness. She has an excellent memory and does not forget what she is taught. She is on the submissive side of the spectrum and she easily submits to another's will. She is a follower, not a leader. She is not bold and lacks some confidence, however, she enjoys affection from others and is not shy around people she doesn't know. She prefers intimate one-on-one relationships, rather than superficial, lively gatherings. She is not quite confident in herself and is initially nervous about different places, people, or other dogs. Meriwether is bonded to her owners. She is fairly calm and has a lot of patience to handle when she needs to wait. She is not energetic. Meriwether is highly alert to her surroundings and takes in many things all at once. She notices a great deal happening at a good distance and uses clear discerning skills to make decisions simply by watching how others interact. She is not much interested in playing and is more on the serious side of life, although she loves to go for walks and run down the trail. Meriwether is not sound sensitive and does not instinctively fear thunder or gun shots. She has a high pain threshold and she can take a lot of pressure before she communicates. 
Temperament Test #2
This puppy initially finched when the loud noise happened, but did not shy away, move under the other puppies, or whine/cry out. Instead, he stood up and looked toward the sound. (8) This puppy yawned initially, but made no noise and did not move from her position. She did not flinch, only yawned. (8) This puppy was still, loose, and silent upon the lift. (10) This puppy was silent, still, and loose until she heard a puppy in the den cry out for mom and then she began to struggle and cry out as well. She did not yawn. She tried to trick the handler and right herself, but when that did not work, she was still and loose and silent. (7) This puppy was quiet and explorative in the bottom of the basket. She did not jump up onto the side of the basket and made no noise. (9) This puppy stayed where she was placed back into the den and sniffed at the handler's hand. (10)
This puppy receives an overall score of 8.7 for this test.
Temperament Test #1
This puppy came into the world with a calm sweetness. (10) This puppy was quiet throughout the 8 hours of life. (10) This puppy is calm and methodical in her movements. (10) This puppy lifted her head into the pet. She moved slightly forward at first, then remained still. She made absolutely no noise. (9) This puppy was still and loose upon the lift. Her legs dangled freely and her body was completely relaxed. She was quiet through the lift. (10+) This puppy was completely relaxed and still upon the turn. Her legs and body were completely relaxed. (10) This puppy took a moment to think about where she was placed. Then, she moved slowly forward toward the puppy pile. She was silent throughout. (10) 
This puppy receives an overall score of 10 for this temperament test. 
Birth Notes
Yeehaw! SECOND PUPPY born at 11:18 pm is an extra large female weighing 1 lb 6 1/2 oz! She has a large white chest with a large white patch all the way up her leg on the front left and right feet. Born head first with the sack intact. She is quiet and calm thus far. Black/tan/white markings
This puppy is a black/tan color combination with gold points and significant white spotting. She does carry a non-spotting gene, however. She also shows roan in her white spotting, which looks like black flecks of coloring amongst the white. This puppy has a black mask, although she carries the no mask gene in the recessive. She has a lovely broad head and a beautiful shorter muzzle with amber colored eyes. She shows a long mane and straight hair. She has large feet and is a large female carrying all large genes. This puppy has a long tail, but it does not have a tendency to curl. This puppy receives an overall conformation score of 8.5 at this time. 
Faults: 
Meriwether had panisteitis at nine months old for one month showing limping behavior in her front left leg. Her temperament is too nervous, lacking in overall confidence. Meriwether's back is not as solid as it could be. She shows too much white spotting, is shorter than desired, is a black/tan color and has some other structural faults as described above.
What She Will Consistently Produce: 
gold or silver wolf gray coloring
amber to yellow eyes
drop or erect ears
long  or short straight tails
thick/heavy builds
medium size
straight and slight loose back
submissive temperaments
low prey drive
some possible pano
both white spotting and solid coloring
short/medium length coats
black and wolf masks