Albreta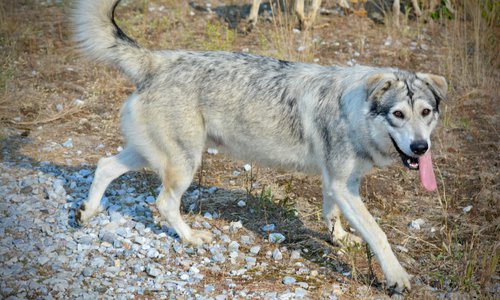 Albreta
| | |
| --- | --- |
| Registration Number: | DC4002-2 |
| Registry: | IADR |
| Call Name: | Albreta |
| Registrated Name: | Vallecito's Albreta, Elfin Valley |
| Titles: | |
| Breeder: | DireWolf Dogs of Vallecito |
| Breed: | American Dirus |
| Filial Number: | F4 |
| Birth Date: | April 11, 2022 |
| Sex: | Female |
| Collar Color: | Red |
| Sire: | Black Dragon (Jagan) |
| Dam: | Cotton Candy (Sophia) |
| Litter: | Fantasy Litter |
| DNA Record: | View DNA Record |
| | Call Name | Registered Name | Registration # | Birth Date | Sex | Sire | Dam | Breed | Filial # |
| --- | --- | --- | --- | --- | --- | --- | --- | --- | --- |
| View | Yeti | Vallecito's White Mountain Checkpoint | VA4001-1 | 2023-Aug-26 | Female | Count (Vlad) | Albreta | American Dirus | F5 |
Albreta is extremely healthy. He has not had any tremors, seizures, weakness in the legs or feet, limping, panosteitis symptoms, issues with her eyes or ears, excessive scratching or other allergy symptoms, etc. She runs, jumps, lopes, lies down, etc without any difficulty. He has never showed signs of pain or any symptoms of illness at any time.  She is extremely healthy and vibrant.
This puppy is aloof in nature, not overly outgoing, preferring to hang back to allow the more outgoing pups in the litter. She has a calm demeanor and isn't overly energetic. This puppy watches and pays attention before interacting. She learns by watching. 
Birth Notes
2nd puppy born is a large dark silver wolf sable female with a wolf mask. She does have some white spotting, but just like we predicted, she shows a darker muzzle instead of a white one. This muzzle should lighten as she grows older, just like a wolf's does. We are so happy to see this hard to acquire trait in the breed. Hopefully we see more puppies just like this from the special Fantasy litter! She shows white toes and white pads of the feet. She has a pink nose, but only the nose and lips with a thin white stripe on the top of the muzzle. She has a tiny white tipped tail, as well. She has grunted constantly and moved around quite a bit since birth.
This puppy is a medium-sized black wolf sable female with a wolf mask. He was born almost black at birth with deep black pigmentation. She has a thinner overall frame and is not heavy in weight. This puppy has a beautiful face with a lovely silver muzzle. She shows amber colored eyes and smaller ears that have some lift to them already. This puppy will be a heavy shedder. This puppy's tail curls some and does not lie straight. Her back, however, is straight. She has a longer body and is not tall in height.