Jesse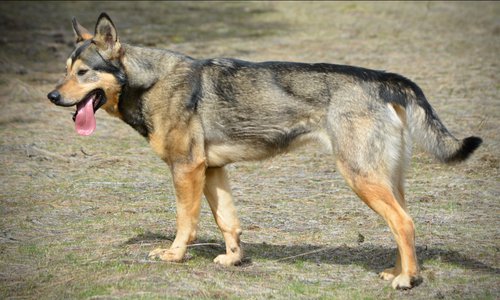 Jesse
| | |
| --- | --- |
| Registration Number: | TR3002-10 |
| Registry: | IADR |
| Call Name: | Jesse |
| Registrated Name: | Vallecito's Cowgirl Jesse |
| Titles: | |
| Breeder: | DireWolf Dogs of Vallecito |
| Breed: | American Dirus |
| Filial Number: | F3 |
| Birth Date: | Sept. 22, 2021 |
| Sex: | Female |
| Collar Color: | Red |
| Sire: | Tudor |
| Dam: | Razar |
| DNA Record: | View DNA Record |
| | Call Name | Registered Name | Registration # | Birth Date | Sex | Sire | Dam | Breed | Filial # |
| --- | --- | --- | --- | --- | --- | --- | --- | --- | --- |
| | Call Name | Registered Name | Registration # | Birth Date | Sex | Sire | Dam | Breed | Filial # |
| --- | --- | --- | --- | --- | --- | --- | --- | --- | --- |
| View | Andy | Vallecito's Andy | TR3002-3 | 2021-Sep-22 | Male | Tudor | Razar | American Alsatian | F3 |
| View | Bo Peep | Vallecito's Little Bo Peep | TR3002-2 | 2021-Sep-22 | Female | Tudor | Razar | American Alsatian | F3 |
| View | Buttercup Dream | Vallecito's Buttercup Dream | TR3002-6 | 2021-Sep-22 | Female | Tudor | Razar | American Alsatian | F3 |
| View | Buzz | Vallecito's Buzz Lightyear | TR3002-5 | 2021-Sep-22 | Male | Tudor | Razar | American Alsatian | F3 |
| View | Pete | Vallecito's Pete the Prospector | TR3002-7 | 2021-Sep-22 | Male | Tudor | Razar | American Alsatian | F3 |
| View | Rocky Gibraltar | Vallecito's Rocky Gibraltar | TR3002-4 | 2021-Sep-22 | Male | Tudor | Razar | American Alsatian | F3 |
| View | Sheriff Woody | Vallecito's Sheriff Woody | TR3002-1 | 2021-Sep-22 | Male | Tudor | Razar | American Alsatian | F3 |
| View | Trixie | Vallecito's Trixie Blue | TR3002-12 | 2021-Sep-22 | Female | Tudor | Razar | American Dirus | F3 |
| View | Zurg | Vallecito's Emperor Zurg | TR3002-8 | 2021-Sep-22 | Male | Tudor | Razar | American Alsatian | F3 |
Jesse is extremely healthy. She has not had any tremors, seizures, weakness in the legs or feet, limping, panosteitis symptoms, issues with her eyes or ears, excessive scratching or other allergy symptoms, soft stools, etc. She runs, jumps, lopes, lies down, etc without any difficulty. She has never showed signs of pain or any symptoms of illness at any time. She is extremely healthy and vibrant.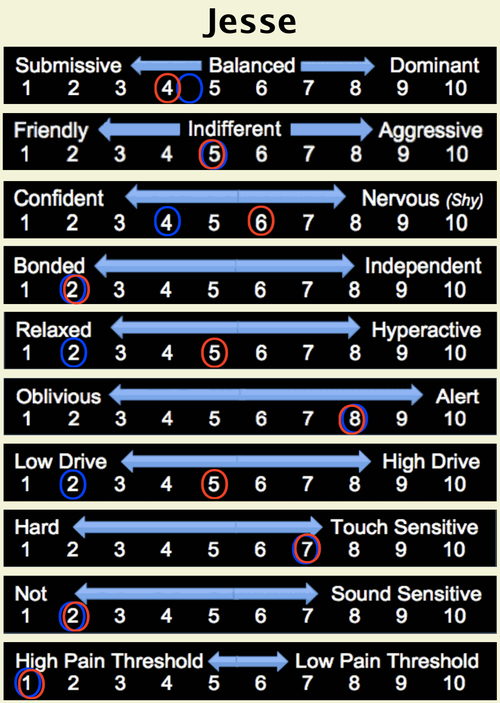 blue = ideal American Dirus temperament
red = Jesse's temperament
Jesse is an extremely smart dog with devoted sweetness. She has an excellent memory and does not forget what she is taught. She is on the submissive side of the spectrum and she easily submits to another's will. She is a follower, not a leader. She is confident, but not bold. She prefers intimate one-on-one relationships, rather than superficial, lively gatherings, but she allows stranger touch. She is confident in herself, but is initially nervous about different places, people, or other dogs. Jesse is bonded to her owners. She has average energy and is not super calm, but she has the patience to handle when she needs to wait. Jesse is highly alert to her surroundings and takes in many things all at once. She notices a great deal happening at a good distance and uses clear discerning skills to make decisions simply by watching how others interact. She enjoys playing with other dogs and likes to play with toys, especially soft ones. She loves to go for walks and run down the trail. Jesse is not sound sensitive and does not instinctively fear thunder or gun shots. She has a high pain threshold and can take a lot of pressure before she communicates. 
Temperament Test #2
This puppy did not flinch or move and made no sound during the loud noise. (10) This puppy was loose and silent during the rough pet, but she did sit up and move her head into the pet. (10+) This puppy was loose and silent during the lift, but did yawn once. (9) This puppy was loose and silent during the turn, but did yawn once. She moved her head until she met with resistance and then she became loose and still again. (9) This puppy moved around the edge of the basket slowly and make no noise. (9) This puppy moved immediately forward with some grunting as if unleased. She did not go directly back to the pile, but lay in the middle of the pen and grunted. (8) 
This puppy receives an overall score of 9.34 for this test.
Temperament Test #1
This puppy came into the world extremely calm and mellow. (10) This puppy was silent for the first 24 hours after birth. (10) This puppy moved forward and down understa as much as she could when rough pet. She made no sound. (7) This pumped her legs four times with little effort, then loosened completely. She did not make an sound. (9) This puppy was loose and silent during the turn. (10) This puppy went to sleep where she was placed when back into the den. (10+)
This puppy receives an overall score of 9.5 for this temperament test. 
Birth Notes
The tenth puppy born at 6:45 am is a solid dark silver female with no white spotting. She came into the world in a quiet, mellow, calm way. She settled where mom placed her and just breathed gently without fuss. When lifted to check on her she did move her legs about, but not violently. Long tail and medium length coat type.
This puppy is a lush coated dark gold wolf sable. She has a very large and broad and should reach 120 - 130 lbs as an adult. She has a very broad massive head and thick bone structure. Her tail is long in length. Nothing special about her eyes at this time. This puppy receives an overall conformation score of 9.