Clementine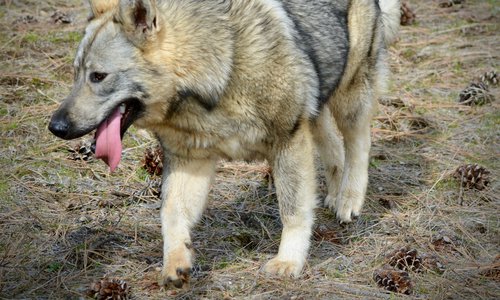 Clementine
| | |
| --- | --- |
| Registration Number: | Eme4001-4 |
| Registry: | IADR |
| Call Name: | Clementine |
| Registrated Name: | Vallecito's Clementine |
| Titles: | |
| Breeder: | DireWolf Dogs of Vallecito |
| Breed: | American Dirus |
| Filial Number: | F4 |
| Birth Date: | June 7, 2022 |
| Sex: | Female |
| Collar Color: | Pink |
| Sire: | Essex |
| Dam: | Meriwether |
| Litter: | Sesame Street Litter |
| DNA Record: | View DNA Record |
| | Call Name | Registered Name | Registration # | Birth Date | Sex | Sire | Dam | Breed | Filial # |
| --- | --- | --- | --- | --- | --- | --- | --- | --- | --- |
| | Call Name | Registered Name | Registration # | Birth Date | Sex | Sire | Dam | Breed | Filial # |
| --- | --- | --- | --- | --- | --- | --- | --- | --- | --- |
| View | Abby | Vallecito's Abby Cadabby | Eme4001-3 | 2022-Jun-07 | Female | Essex | Meriwether | American Alsatian | F4 |
| View | Cookie Monster | Vallecito's Cookie Monster | EMe4001-1 | 2022-Jun-07 | Male | Essex | Meriwether | American Dirus | F4 |
| View | Dawn | Vallecito's Prairie Dawn | Eme4001-2 | 2022-Jun-07 | Female | Essex | Meriwether | American Dirus | F4 |
| View | Maria | Vallecito's Maria | Eme4001-5 | 2022-Jun-07 | Female | Essex | Meriwether | American Alsatian | F4 |
Clementine is extremely healthy. She has not had any tremors, seizures, weakness in the legs or feet, limping, panosteitis symptoms, issues with her eyes or ears, excessive scratching or other allergy symptoms, soft stools, etc. She runs, jumps, lopes, lies down, etc without any difficulty. She has never showed signs of pain or any symptoms of illness at any time. She is extremely healthy and vibrant. Candy has been DNA tested with 23% inbreeding and high immune diversity.
This puppy is not as bold as her two sisters and doesn't get in your face or jump up on you, but she is affectionate and interested in being loved on by people. She is extremely smart and somewhat willful. She is more on the independent side and doesn't want to be pushed to do something she doesn't want to do. She is resistent to manipulation by her siblings. This puppy is not as bold as her sister, either, although she will explore outside the den space in unfamiliar territory, she remains cautious and ready to bolt should anything arise to scare her. This is a natural and good response from a little puppy that should not go wandering too far from the den. 
This dog is a large silver wolf gray female with a wolf mask. She has two small, erect ears. She shows a long coat with no feathering or furnishings. This puppy has a short, straight tail with a long, thick mane and tail. This puppy is short in stature for this breed. She has a thick overall bone and body structure, but she is not heavy muscled. This puppy has a proportioned head size with a short neck. This puppy has no white spotting.