Syrenka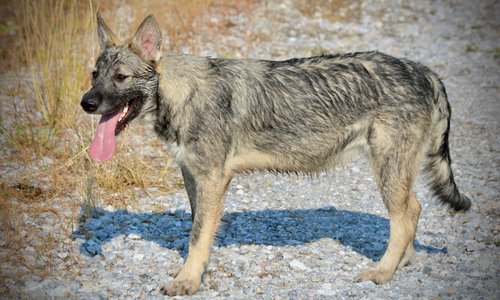 Syrenka
For Sale - $3000.00
Please contact us directly by email if you are interested in learning more about Syrenka.
jennifer@direwolfproject.com
| | |
| --- | --- |
| Registration Number: | EM4002-8 |
| Registry: | IADR |
| Call Name: | Syrenka |
| Registrated Name: | Vallecito's Syrenka of Warsaw |
| Titles: | |
| Breeder: | DireWolf Dogs of Vallecito |
| Breed: | American Dirus |
| Filial Number: | F4 |
| Birth Date: | Oct. 19, 2022 |
| Sex: | Female |
| Collar Color: | Green |
| Sire: | Essex |
| Dam: | Mary |
| Litter: | Sea Monsters Litter |
| DNA Record: | View DNA Record |
| | Call Name | Registered Name | Registration # | Birth Date | Sex | Sire | Dam | Breed | Filial # |
| --- | --- | --- | --- | --- | --- | --- | --- | --- | --- |
| | Call Name | Registered Name | Registration # | Birth Date | Sex | Sire | Dam | Breed | Filial # |
| --- | --- | --- | --- | --- | --- | --- | --- | --- | --- |
| View | Ariel | Vallecito's Ariel | EM4001-4 | 2022-Oct-19 | Female | Essex | Mary | American Dirus | F4 |
| View | Cetus | Vallecito's Cetus | EM4002-3 | 2022-Oct-19 | Male | Essex | Mary | American Dirus | F4 |
| View | Finfolk | Vallecito's Finfolk | EM4002-2 | 2022-Oct-19 | Male | Essex | Mary | American Dirus | F4 |
| View | Jengu | Vallecito's Jengu | EM4002-7 | 2022-Oct-19 | Female | Essex | Mary | American Dirus | F4 |
| View | Jormu | Vallecito's Jormu the Seahorse | EM4002-9 | 2022-Oct-19 | Male | Essex | Mary | American Dirus | F4 |
| View | Levi | Vallecito's Leviathan | EM4002-11 | 2022-Oct-19 | Male | Essex | Mary | American Dirus | F4 |
| View | Lorelei | Vallecito's Lorelei | EM4002-6 | 2022-Oct-19 | Female | Essex | Mary | American Dirus | F4 |
| View | Mami | Vallecito's Mami Wata | EM4002-5 | 2022-Oct-19 | Female | Essex | Mary | American Dirus | F4 |
| View | Nessie | Vallecito's Nessie | EM4002-1 | 2022-Oct-19 | Female | Essex | Mary | American Dirus | F4 |
| View | Sedna | Vallecito's Sedna | EM4001-10 | 2022-Oct-19 | Female | Essex | Mary | American Dirus | F4 |
This puppy showed only minimal symptoms related to the Parvo virus.
Temperament Test #2
This puppy was loose, still, and quiet during the rough pet. She bowed her head slightly with each pet, as if anticipating the touch. This puppy was still and quiet during the turn. Her body was somewhat stiff in the back legs. They hung down, but they were straight down, not particularly loose. Her tail did not This puppy licked the sides of the basket. She did not explore much, but remained in one place and tasted the wall in front of her. This puppy was slightly head shy when pet on the head close to the handler. This puppy did not fuss with toenail clipping. This puppy remained in place where she was put back into the den. She looked around with her whole head, but was extremely quiet. 
Temperament Test #1
This puppy was extremely quiet during the first 24 hours after birth. This puppy is calm and does not have a drive to go in a quick manner toward mom when it is time to feed. This puppy is easily pushed aside from the larger pups in the pack. Appears submissive, not a leader. 
Birth Notes:
1 lbs 4 oz Large female. Minimal white spotting. 
This puppy is a small female with a silver wolf sable coat and a black muzzle. She is the smallest female in this litter. She will likely reach 27 inches tall at the shoulders and weigh 90 lbs as an adult. This puppy has a thin frame with thinner bone structure and smaller feet. She has a lovely short tail that does not have a tendency to curl. This puppy has a shorter coat type with a slight wave in texture. This puppy has minimal white spotting with a white chest and only a small amount of white on her toes.