8. Grace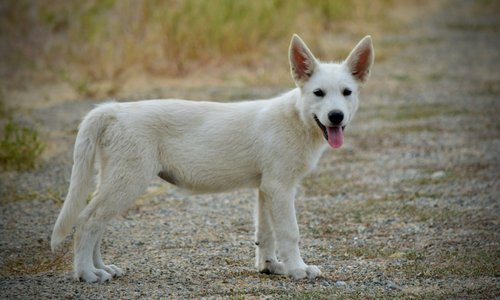 8. Grace
| | |
| --- | --- |
| Registration Number: | ER4001-8 |
| Registry: | IADR |
| Call Name: | 8. Grace |
| Registrated Name: | Vallecito's Grace Hopper |
| Titles: | |
| Breeder: | DireWolf Dogs of Vallecito |
| Breed: | American Dirus |
| Filial Number: | F4 |
| Birth Date: | May 9, 2023 |
| Sex: | Female |
| Collar Color: | Yellow |
| Sire: | Essex |
| Dam: | Regina |
| Litter: | Genius Litter |
| DNA Record: | |
| | Call Name | Registered Name | Registration # | Birth Date | Sex | Sire | Dam | Breed | Filial # |
| --- | --- | --- | --- | --- | --- | --- | --- | --- | --- |
| | Call Name | Registered Name | Registration # | Birth Date | Sex | Sire | Dam | Breed | Filial # |
| --- | --- | --- | --- | --- | --- | --- | --- | --- | --- |
| View | 3. Marie | Vallecito's Marie Curie | ER4001-3 | 2023-May-09 | Female | Essex | Regina | American Dirus | F4 |
| View | 4. Tesla (Caitlin/Alex) | Vallecito's Nikola Tesla | ER4001-4 | 2023-May-09 | Male | Essex | Regina | American Dirus | F4 |
| View | 5. Einstein (Joseph/Monika) | Vallecito's Albert Einstein | ER4001-5 | 2023-May-09 | Male | Essex | Regina | American Dirus | F4 |
| View | 6. Hedy | Vallecito's Hedy Lamarr | ER4001-6 | 2023-May-09 | Female | Essex | Regina | American Dirus | F4 |
| View | 7. Gladys | Vallecito's Gladys Mae West | ER4001-7 | 2023-May-09 | Female | Essex | Regina | American Dirus | F4 |
| View | Ada | Vallecito's Ada Lovelace | ER4001-1 | 2023-May-09 | Female | Essex | Regina | American Dirus | F4 |
| View | MAQ | Vallecito's Sir Isaac Newton | ER4001-2 | 2023-May-09 | Male | Essex | Regina | American Dirus | F4 |
06/04/2023: Nemex II
This puppy has been very healthy since birth.
General Personality Notes:
This puppy is smart, aware, alert and confident. She is not bold or too curious, but is not reserved, either.
Temperament Test:
This puppy did not move forward or backward during the rough pet. She did move her head slightly from side to side and bob it up and down in anticipation of the pet. She sat quietly throughout the task. This puppy was loose, still, and quiet throughout the lift. This puppy was loose, still, and quiet during the turn. This puppy sat for a few seconds in silence when replaced into the den away from her siblings. She then turned to sniff at the handler's feet, licking them twice, then sitting still for a few more seconds. This puppy then got up and waddled back to the puppy pile. This puppy pushed her head up into the pet when touched on the head in an unfamiliar environment. She did not show any fear or nervousness in this space.
This puppy receives a score of 10+ for this temperament test.
Grace Hopper is a large white female with a long, straight coat type. She has minimal white spotting with a short white-tipped, fluffy tail. Her ears are small and have already risen at 3 weeks old. She has a thin head shape with a tapered muzzle.