3. Marie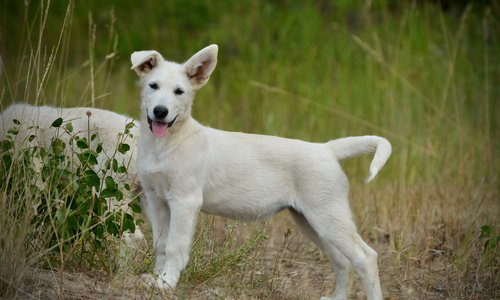 3. Marie
For Sale - $3800.00
Please contact us directly by email if you are interested in learning more about 3. Marie.
jennifer@direwolfproject.com
| | |
| --- | --- |
| Registration Number: | ER4001-3 |
| Registry: | IADR |
| Call Name: | 3. Marie |
| Registrated Name: | Vallecito's Marie Curie |
| Titles: | |
| Breeder: | DireWolf Dogs of Vallecito |
| Breed: | American Dirus |
| Filial Number: | F4 |
| Birth Date: | May 9, 2023 |
| Sex: | Female |
| Collar Color: | Light Blue |
| Sire: | Essex |
| Dam: | Regina |
| Litter: | Genius Litter |
| DNA Record: | |
| | Call Name | Registered Name | Registration # | Birth Date | Sex | Sire | Dam | Breed | Filial # |
| --- | --- | --- | --- | --- | --- | --- | --- | --- | --- |
| | Call Name | Registered Name | Registration # | Birth Date | Sex | Sire | Dam | Breed | Filial # |
| --- | --- | --- | --- | --- | --- | --- | --- | --- | --- |
| View | 4. Tesla (Caitlin/Alex) | Vallecito's Nikola Tesla | ER4001-4 | 2023-May-09 | Male | Essex | Regina | American Dirus | F4 |
| View | 5. Einstein (Joseph/Monika) | Vallecito's Albert Einstein | ER4001-5 | 2023-May-09 | Male | Essex | Regina | American Dirus | F4 |
| View | 6. Hedy | Vallecito's Hedy Lamarr | ER4001-6 | 2023-May-09 | Female | Essex | Regina | American Dirus | F4 |
| View | 7. Gladys | Vallecito's Gladys Mae West | ER4001-7 | 2023-May-09 | Female | Essex | Regina | American Dirus | F4 |
| View | 8. Grace | Vallecito's Grace Hopper | ER4001-8 | 2023-May-09 | Female | Essex | Regina | American Dirus | F4 |
| View | Ada | Vallecito's Ada Lovelace | ER4001-1 | 2023-May-09 | Female | Essex | Regina | American Dirus | F4 |
| View | MAQ | Vallecito's Sir Isaac Newton | ER4001-2 | 2023-May-09 | Male | Essex | Regina | American Dirus | F4 |
06/04/2023: Nemex II
This puppy has been very healthy since birth.
General Personality Notes:
This puppy shows superior intelligence. She is very aware of her surroundings and can often be found thinking quietly. She is an analyzer, so she will likely require processing time when learning new tasks. She will want to know exactly how to do a task, so positive training will be appropriate for her as a puppy. She is a calm puppy with a sharp thinking brain... a problem solver.
Temperament Test:
This puppy did not move forward or backward during the rough pet. Instead, she rose up onto her front feet in a semi-sitting position and rested her head on her sibling's body. This puppy was silent during this task. This puppy lifted her back legs and tail briefly when first lifted, then relaxed completely after a second. This puppy remained silent and relaxed throughout the lift. This puppy was relaxed during the turn. She did bring her left back foot up in a soft pump, but then relaxed her body even further. She was loose, silent, and still during the turn. This puppy took a few seconds to think about her placement when set down into the den away from her siblings. She remained in place, but moved her head slowly back and forth, sniffing the handler's feet. It took her about 20 seconds to complete her sniffing routine. At that point, this puppy turned back toward the puppies and slowly walked back to the pile. This puppy was not head shy when placed in an unfamiliar environment and touched on the head.
This puppy receives a score of 9.8 for this temperament test.
Marie Curie is a large white female with a long, straight coat type. She has a thinner bone structure with lighter weight. She looks to have brown eyes. Her ears have some lift to them at 3 weeks old. She has a thinner muzzle with a lovely wolf-like taper at the nose.