6. Hedy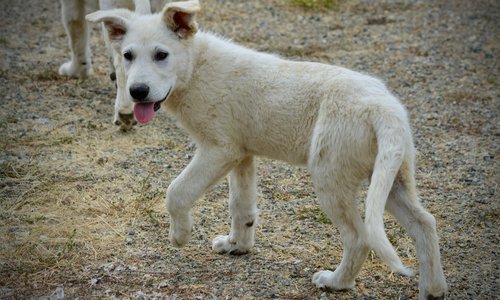 6. Hedy
For Sale - $2800.00
Please contact us directly by email if you are interested in learning more about 6. Hedy.
jennifer@direwolfproject.com
| | |
| --- | --- |
| Registration Number: | ER4001-6 |
| Registry: | IADR |
| Call Name: | 6. Hedy |
| Registrated Name: | Vallecito's Hedy Lamarr |
| Titles: | |
| Breeder: | DireWolf Dogs of Vallecito |
| Breed: | American Dirus |
| Filial Number: | F4 |
| Birth Date: | May 9, 2023 |
| Sex: | Female |
| Collar Color: | Red |
| Sire: | Essex |
| Dam: | Regina |
| Litter: | Genius Litter |
| DNA Record: | |
| | Call Name | Registered Name | Registration # | Birth Date | Sex | Sire | Dam | Breed | Filial # |
| --- | --- | --- | --- | --- | --- | --- | --- | --- | --- |
| | Call Name | Registered Name | Registration # | Birth Date | Sex | Sire | Dam | Breed | Filial # |
| --- | --- | --- | --- | --- | --- | --- | --- | --- | --- |
| View | 3. Marie | Vallecito's Marie Curie | ER4001-3 | 2023-May-09 | Female | Essex | Regina | American Dirus | F4 |
| View | 4. Tesla (Caitlin/Alex) | Vallecito's Nikola Tesla | ER4001-4 | 2023-May-09 | Male | Essex | Regina | American Dirus | F4 |
| View | 5. Einstein (Joseph/Monika) | Vallecito's Albert Einstein | ER4001-5 | 2023-May-09 | Male | Essex | Regina | American Dirus | F4 |
| View | 7. Gladys | Vallecito's Gladys Mae West | ER4001-7 | 2023-May-09 | Female | Essex | Regina | American Dirus | F4 |
| View | 8. Grace | Vallecito's Grace Hopper | ER4001-8 | 2023-May-09 | Female | Essex | Regina | American Dirus | F4 |
| View | Ada | Vallecito's Ada Lovelace | ER4001-1 | 2023-May-09 | Female | Essex | Regina | American Dirus | F4 |
| View | MAQ | Vallecito's Sir Isaac Newton | ER4001-2 | 2023-May-09 | Male | Essex | Regina | American Dirus | F4 |
06/04/2023: Nemex II
This puppy has been very healthy since birth.
General Personality Notes:
This puppy is on the reserved side of life. She will do best in a home with quiet consistency. She will do great with cats and calmer dogs. She is very intelligent and will be highly alert and aware of her surroundings. This puppy will benefit from correct socialization training. She also requires processing time to think through new situations. This puppy is a calm, thinking type of puppy. She could do okay with children, if they aren't rambunctious types. She will be quite the snuggler and love pets and affection.
Temperament Test:
This puppy bobbed her head from side to side and moved her front to the right. She was silent throughout this task. This puppy as loose, still, and quiet during the lift, although her tail was tucked under her slightly. This puppy was loose, still, and quiet during the turn. This puppy sniffed from side to side when she was returned to the den away from the other puppies. Then, she laid her head down where she was placed. This puppy showed stiffness when pet on the head in an unfamiliar environment. She was also somewhat curious of her predicament, as well.
This puppy receives a score of 8.8 for this temperament test.
Hedy Lamarr is an extra large white female with a long, curly coat. She has a short, fluffy tail with a thinner, taller bone structure and smaller feet. She appears to have light brown, round eyes.