7. Gladys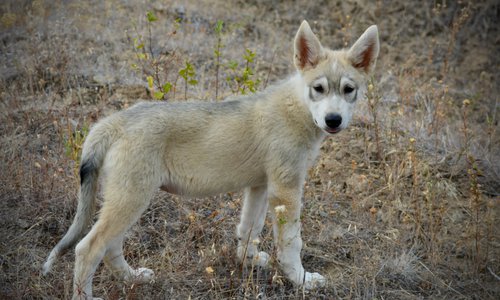 7. Gladys
For Sale - $2500.00
Please contact us directly by email if you are interested in learning more about 7. Gladys.
jennifer@direwolfproject.com
| | |
| --- | --- |
| Registration Number: | ER4001-7 |
| Registry: | IADR |
| Call Name: | 7. Gladys |
| Registrated Name: | Vallecito's Gladys Mae West |
| Titles: | |
| Breeder: | DireWolf Dogs of Vallecito |
| Breed: | American Dirus |
| Filial Number: | F4 |
| Birth Date: | May 9, 2023 |
| Sex: | Female |
| Collar Color: | Purple |
| Sire: | Essex |
| Dam: | Regina |
| Litter: | Genius Litter |
| DNA Record: | |
| | Call Name | Registered Name | Registration # | Birth Date | Sex | Sire | Dam | Breed | Filial # |
| --- | --- | --- | --- | --- | --- | --- | --- | --- | --- |
| | Call Name | Registered Name | Registration # | Birth Date | Sex | Sire | Dam | Breed | Filial # |
| --- | --- | --- | --- | --- | --- | --- | --- | --- | --- |
| View | 3. Marie | Vallecito's Marie Curie | ER4001-3 | 2023-May-09 | Female | Essex | Regina | American Dirus | F4 |
| View | 4. Tesla (Caitlin/Alex) | Vallecito's Nikola Tesla | ER4001-4 | 2023-May-09 | Male | Essex | Regina | American Dirus | F4 |
| View | 5. Einstein (Joseph/Monika) | Vallecito's Albert Einstein | ER4001-5 | 2023-May-09 | Male | Essex | Regina | American Dirus | F4 |
| View | 6. Hedy | Vallecito's Hedy Lamarr | ER4001-6 | 2023-May-09 | Female | Essex | Regina | American Dirus | F4 |
| View | 8. Grace | Vallecito's Grace Hopper | ER4001-8 | 2023-May-09 | Female | Essex | Regina | American Dirus | F4 |
| View | Ada | Vallecito's Ada Lovelace | ER4001-1 | 2023-May-09 | Female | Essex | Regina | American Dirus | F4 |
| View | MAQ | Vallecito's Sir Isaac Newton | ER4001-2 | 2023-May-09 | Male | Essex | Regina | American Dirus | F4 |
06/04/2023: Nemex II
This puppy has been very healthy since birth.
General Personality Notes:
This puppy is the most cautious puppy in the litter. She is more confident in a familiar setting, but she is not at all confident when in unfamiliar places. This puppy is a calm follower type and will not seek to take advantage or wander/roam. This puppy is highly intelligent and aware/alert to her surroundings. She will notice things far in the distance. This puppy will benefit for a quieter home without children. She will like routine and be a homebody. She will be a snuggler and love hugs and kisses... very affectionate. This puppy will be a velcro dog and want to be involved in her life and what you are doing. She will be a good watch dog because she will alert you with her body when anyone approaches. She will require correct socialization training to increase her confidence at her own pace. She should not be pushed beyond her emotional limits. This puppy will be their owner's best friend, completely loyal and devoted.
Temperament Test:
This puppy sat up and moved back rapidly five steps during the rough pet. She then sat still, but licked her lips once. She was silent throughout. This puppy was initial stiff, but relaxed into the lift after a second. She was otherwise loose, still, and quiet. This puppy was loose, still, and quiet during the turn. She licked her lips twice during this time. This puppy slunk back to the puppy pile without looking around when replaced into the den away from her siblings. This puppy cried out and twisted her head away from the head touch when placed in an unfamiliar environment. She also yawned several times during this task.
This puppy receives a score of 5 for this temperament test.
This puppy is a large light silver wolf sable with a white mask. She has a long, straight coat with white patch on the top of her forehead. She has white spotting on her tail tip, white toes, and a large white chest. She has a broad head and a black nose with a shorter muzzle.