Mary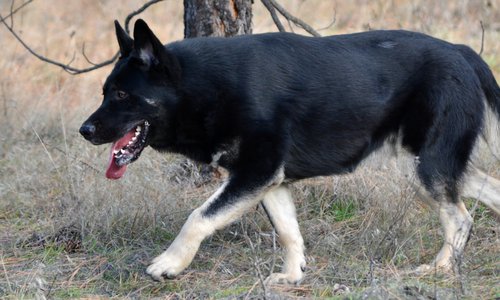 Mary
For Sale - $1200.00
Please contact us directly by email if you are interested in learning more about Mary.
jennifer@direwolfproject.com
| | |
| --- | --- |
| Registration Number: | KR5001-3 |
| Registry: | NAAR |
| Call Name: | Mary |
| Registrated Name: | Vallecito's Stagecoach Mary |
| Titles: | |
| Breeder: | DireWolf Dogs of Vallecito |
| Breed: | American Alsatian |
| Filial Number: | F5 |
| Birth Date: | March 2, 2021 |
| Sex: | Female |
| Sire: | Kodiak |
| Dam: | Razar |
| DNA Record: | View DNA Record |
| | Call Name | Registered Name | Registration # | Birth Date | Sex | Sire | Dam | Breed | Filial # |
| --- | --- | --- | --- | --- | --- | --- | --- | --- | --- |
| View | Cetus | Vallecito's Cetus | EM4002-3 | 2022-Oct-19 | Male | Essex | Mary | American Dirus | F4 |
| View | Finfolk | Vallecito's Finfolk | EM4002-2 | 2022-Oct-19 | Male | Essex | Mary | American Dirus | F4 |
| View | Ariel | Vallecito's Ariel | EM4001-4 | 2022-Oct-19 | Female | Essex | Mary | American Dirus | F4 |
| View | Mami | Vallecito's Mami Wata | EM4002-5 | 2022-Oct-19 | Female | Essex | Mary | American Dirus | F4 |
| View | Lorelei | Vallecito's Lorelei | EM4002-6 | 2022-Oct-19 | Female | Essex | Mary | American Dirus | F4 |
| View | Levi | Vallecito's Leviathan | EM4002-11 | 2022-Oct-19 | Male | Essex | Mary | American Dirus | F4 |
| View | Nessie | Vallecito's Nessie | EM4002-1 | 2022-Oct-19 | Female | Essex | Mary | American Dirus | F4 |
| View | Syrenka | Vallecito's Syrenka of Warsaw | EM4002-8 | 2022-Oct-19 | Female | Essex | Mary | American Dirus | F4 |
| View | Jormu | Vallecito's Jormu the Seahorse | EM4002-9 | 2022-Oct-19 | Male | Essex | Mary | American Dirus | F4 |
| View | Jengu | Vallecito's Jengu | EM4002-7 | 2022-Oct-19 | Female | Essex | Mary | American Dirus | F4 |
| View | Sedna | Vallecito's Sedna | EM4001-10 | 2022-Oct-19 | Female | Essex | Mary | American Dirus | F4 |
| View | Bally | Vallecito's Baluster Ready at the Helm | EM4001-1 | 2022-Mar-01 | Male | Essex | Mary | American Dirus | F4 |
| View | Caravel | Vallecito's Caravel Deep Blue Sea | EM4001-10 | 2022-Mar-01 | Male | Essex | Mary | American Alsatian | F4 |
| View | Captain | Vallecito's Captain Anchor's Away | EM4001-12 | 2022-Mar-01 | Male | Essex | Mary | American Alsatian | F4 |
| View | Windlass | Vallecito's Windlass Know Your Ropes | EM4001-6 | 2022-Mar-01 | Female | Essex | Mary | American Alsatian | F4 |
| View | Lateen | Vallecito's Lateen Broad in the Beam | EM4001-2 | 2022-Mar-01 | Female | Essex | Mary | American Alsatian | F4 |
| View | Moonraker | Vallecito's Moonraker Close to the Wind | EM4001-4 | 2022-Mar-01 | Female | Essex | Mary | American Alsatian | F4 |
| View | Clipper | Vallecito's Clipper Wind in My Sails | EM4001-9 | 2022-Mar-01 | Male | Essex | Mary | American Alsatian | F4 |
| View | Dory | Vallecito's Honky Dory Get on Board | EM4001-3 | 2022-Mar-01 | Female | Essex | Mary | American Alsatian | F4 |
| View | Gale | Vallecito's Martingale Trim the Sails | EM4001-11 | 2022-Mar-01 | Female | Essex | Mary | American Alsatian | F4 |
| View | Timbers | Vallecito's Shiver Me Timbers | EM4001-4 | 2022-Mar-01 | Male | Essex | Mary | American Alsatian | F4 |
| View | Windfall | Vallecito's Windfall Steady as She Goes | EM4001-7 | 2022-Mar-01 | Female | Essex | Mary | American Alsatian | F4 |
| View | Zabra | Vallecito's Zabra Whistle for the Wind | EM4001-8 | 2022-Mar-01 | Female | Essex | Mary | American Alsatian | F4 |
| | Call Name | Registered Name | Registration # | Birth Date | Sex | Sire | Dam | Breed | Filial # |
| --- | --- | --- | --- | --- | --- | --- | --- | --- | --- |
| View | Buffalo Bill | Vallecito's Buffalo Bill | KR5001-6 | 2021-Mar-02 | Male | Kodiak | Razar | American Alsatian | F5 |
| View | Eli | Vallecito's Jeremiah Johnson | KR5001-8 | 2021-Mar-02 | Male | Kodiak | Razar | American Alsatian | F5 |
| View | Fannie | Vallecito's Fannie Quigley | KR5001-5 | 2021-Mar-02 | Female | Kodiak | Razar | American Alsatian | F5 |
| View | Grizzly Adams | Vallecito's Grizzly Adams | KR5001-1 | 2021-Mar-02 | Male | Kodiak | Razar | American Alsatian | F5 |
| View | Jane | Vallecito's Calamity Jane | KR5001-10 | 2021-Mar-02 | Female | Kodiak | Razar | American Alsatian | F5 |
| View | Klondike | Vallecito's Klondike Gold | KR5001-4 | 2021-Mar-02 | Male | Kodiak | Razar | American Alsatian | F5 |
| View | Meriwether | Vallecito's Meriwether Lewis | KR5001-2 | 2021-Mar-02 | Female | Kodiak | Razar | American Dirus | F5 |
| View | Santiago | Vallecito's Santiago | KR5001-9 | 2021-Mar-02 | Male | Kodiak | Razar | American Alsatian | F5 |
| View | Savanna | Vallecito's Savanna Sunrise | KR5001-7 | 2021-Mar-02 | Female | Kodiak | Razar | American Alsatian | F5 |
Mary is extremely healthy with a perfectly formed body structure which promotes excellent health. Mary is spayed.
Temperament:
Mary is an extremely smart dog with devoted sweetness. She has an excellent memory and does not forget what she is taught. She is on the submissive side of the spectrum and she easily submits to another's will. She is a follower, not a leader. She is not bold and lacks some confidence, especially around people she does not know. She prefers intimate one-on-one relationships, rather than superficial, lively gatherings. She is confident in herself, but is initially nervous about different places, people, or other dogs. Mary is bonded to her owners. She has average energy and is not super calm, but she has the patience to handle when she needs to wait. Mary is highly alert to her surroundings and takes in many things all at once. She notices a great deal happening at a good distance and uses clear discerning skills to make decisions simply by watching how others interact. She enjoys playing with other dogs and likes to play with toys, especially soft ones. She loves to go for walks and run down the trail. Mary is not sound sensitive and does not instinctively fear thunder or gun shots. She has a high pain threshold and can take a lot of pressure before she communicates. 
Conformation:
Mary is a large black/silver colored dog with a back mask and amber eyes. She is on the thinner side of the body type spectrum, but does show heavy muscling. She weighs around 100 lbs. and stands 27 inches tall at the shoulders. Mary has a lovely solid straight back without a tendency to sway. Her legs flow straight down from their joints and she glides across the ground as she trots. She does not have a tendency to trip and is very lithe. Mary's ears are solidly erect. She has a straight tail with a tendency to curl over her back. Mary has proper teeth alignment and her muzzle is not too long nor too short. 
Faults: 
Mary has no faults in health. Her temperament is lacks in overall confidence when in new locations and with new people. Mary is a black/silver color.
What She Will Consistently Produce: 
silver wolf gray coloring
amber to yellow eyes
erect ears
long or short straight tails
thick/heavy builds
medium size
straight back
submissive temperaments
medium prey drive
solid coloring
short/medium length coats
black masks
Mary (Kodiak/Razar)