Jengu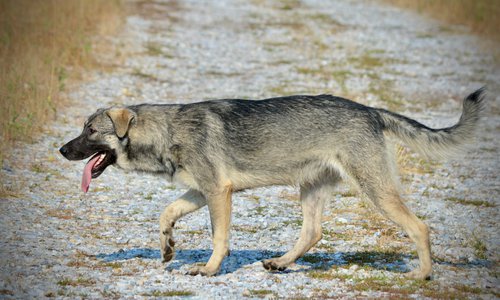 Jengu
| | |
| --- | --- |
| Registration Number: | EM4002-7 |
| Registry: | IADR |
| Call Name: | Jengu |
| Registrated Name: | Vallecito's Jengu |
| Titles: | |
| Breeder: | DireWolf Dogs of Vallecito |
| Breed: | American Dirus |
| Filial Number: | F4 |
| Birth Date: | Oct. 19, 2022 |
| Sex: | Female |
| Collar Color: | Gray |
| Sire: | Essex |
| Dam: | Mary |
| Litter: | Sea Monsters Litter |
| DNA Record: | View DNA Record |
| | Call Name | Registered Name | Registration # | Birth Date | Sex | Sire | Dam | Breed | Filial # |
| --- | --- | --- | --- | --- | --- | --- | --- | --- | --- |
| | Call Name | Registered Name | Registration # | Birth Date | Sex | Sire | Dam | Breed | Filial # |
| --- | --- | --- | --- | --- | --- | --- | --- | --- | --- |
| View | Ariel | Vallecito's Ariel | EM4001-4 | 2022-Oct-19 | Female | Essex | Mary | American Dirus | F4 |
| View | Cetus | Vallecito's Cetus | EM4002-3 | 2022-Oct-19 | Male | Essex | Mary | American Dirus | F4 |
| View | Finfolk | Vallecito's Finfolk | EM4002-2 | 2022-Oct-19 | Male | Essex | Mary | American Dirus | F4 |
| View | Jormu | Vallecito's Jormu the Seahorse | EM4002-9 | 2022-Oct-19 | Male | Essex | Mary | American Dirus | F4 |
| View | Levi | Vallecito's Leviathan | EM4002-11 | 2022-Oct-19 | Male | Essex | Mary | American Dirus | F4 |
| View | Lorelei | Vallecito's Lorelei | EM4002-6 | 2022-Oct-19 | Female | Essex | Mary | American Dirus | F4 |
| View | Mami | Vallecito's Mami Wata | EM4002-5 | 2022-Oct-19 | Female | Essex | Mary | American Dirus | F4 |
| View | Nessie | Vallecito's Nessie | EM4002-1 | 2022-Oct-19 | Female | Essex | Mary | American Dirus | F4 |
| View | Sedna | Vallecito's Sedna | EM4001-10 | 2022-Oct-19 | Female | Essex | Mary | American Dirus | F4 |
| View | Syrenka | Vallecito's Syrenka of Warsaw | EM4002-8 | 2022-Oct-19 | Female | Essex | Mary | American Dirus | F4 |
This puppy has gone through Parvo and is now immune from this virus for life.
Temperament Test #2
This puppy was loose, still, and quiet during the rough pet. She was so relaxed, that she opened her mouth and panted slightly, adding what looked like a smile. This puppy moved her head slightly in the direction of the handler during the pet. This puppy was loose, still, and quiet during the lift. This puppy was loose, still, and quiet during the lift. This puppy explored the sides of the basket. She did not move around, but stayed in the center, moving her head back and forth. She did not make a sound, but instead, sniffed and licked at the walls of the basket. This puppy did not fuss during the toenail clipping. She did not try to take her foot away. In fact, she placed her mouth on the handler's hands during the clip in what appeared to be a good-will or playful gesture. She was not stiff, or scared in any way, which would indicate a more nervous gesture. This puppy was not head shy. She looked up at the handler when pet on the head close to the handler's chest. This puppy sat where she was placed back into the den. She spent a few seconds in what appeared to be thought, then stood up and walked quietly and calmly over to the puppy pile. 
Temperament Test #1
This puppy is still and quiet. No noises. Very alert and watchful. She did not cry out or struggle during this test.
Birth Notes:
1 lbs 5 oz Large female. Minimal white spotting. black tipped tail, only white toes, small white on chest. 
This puppy is a large female with a silver wolf sable coat and a black muzzle. She has a minimal amount of white spotting with a black-tipped tail. She will likely reach 100 lbs and stand 27 - 28 inches tall as an adult. She has white-tipped hairs on her back and shoulders, like a raccoon. She has a medium length coat that is straight in texture. This puppy has deep black pigmentation. She appears to have brown eyes.