Rocky Mountain High Litter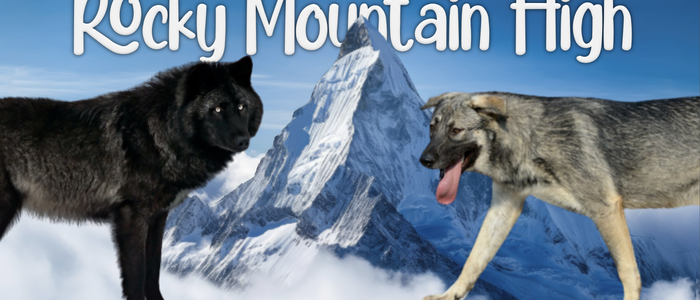 Puppies
About the Litter
Aye, Calypso, the places you've been to; the things that you've shown us; the stories you tell!
John Denver's iconic songs of the wilderness come to life in this amazing litter!
If you have been waiting for a black wolf gray with yellow eyes, erect ears and a loving disposition... well, this litter has you covered.
If you have wanted a wolf dog, but don't want the struggles that come with owning one... look no further than our 0% wolf puppies.
The FAMOUS black Stanley has sired another amazing litter.
The following coat colors will be present in this litter:
50% silver wolf sable
50% gold wolf sable
50% black face
50% white face
No to low white spotting
This litter has an extremely low inbreeding with 3.9% on a 5-generation pedigree. Genetically HEALTHY puppies!
This litter also has a HIGH ancestor loss ratio with NO double ancestors in the first FOUR generations!
We anticipate some pups will show yellow eyes, erect ears, and fluffy manes/tails.
NO furnishings (long hair on the muzzle)!
NO feathering (long human-like hair between the toes, back of legs, and behind the ears)!
All puppies will have natural high shedding coat types, keeping puppies clean of debris and free from dandruff. This promotes NO harsh doggie smells and LIMITED grooming requirements.
If you can't stand a dog that talks to you, this litter is NOT for you. (Roo Roo!)
If you need a GIANT dog, then better pass on this litter. (Largest pups will be males around 110 lbs ONLY!)
Some pups will have strong erect ears rising early. Other pups will have weaker ears that rise after 6 months old. All pups SHOULD have erect ears in the end, though.
Gotta have a straight tail with no bend... you'll have to wait.
Need confident and outgoing... this litter is NOT it. These pups will be aloof and bonded strongly to their owners.
.
Puppies will range in price from $3800 - $4800.
Any exceptional puppies may be priced higher or not for sale.
Black puppies (especially males) will be higher in price because they are more coveted and it has taken me a long time to get here.
.
This litter will likely NOT be repeated.
We only need ONE litter out of Jengu... and this is it!
Jengu's mother is the beautiful and sweet, Mary out of a wonderful line of loving, gentle, and bonded ancestry.
Jengu's father is the renowned giant light silver male, Ch. Essex... very calm and gentle... perfect in temperament and overall dire wolf size!
Stanley's thick wolf coat and fluffy cheeks can't be beat!
Don't miss out on a wonderful bunch of puppies.
ONLY those people on our waiting list will be eligible.
Male pups will go FAST, so don't delay. Get on our waiting list now!
Pedigree
CH

Stanley


American Alsatian - F3
Oct. 7, 2017

Boss


American Alsatian - F2
Oct. 13, 2015

Hammer


American Alsatian - F1
Aug. 30, 2014

ROM

Blossom


American Alsatian - F1
Feb. 21, 2013

Shenanigan


American Alsatian - F2
Feb. 3, 2016

Finnegan


American Alsatian - F2
June 22, 2015

Teegan (Aurora)


American Alsatian - F1
July 23, 2014

Jengu


American Dirus - F4
Oct. 19, 2022

CH

Essex


American Dirus - F3
Nov. 7, 2019

CH

Triton

WW


American Alsatian - F2
July 23, 2018

Darla


American Alsatian - F3
Nov. 7, 2018

Mary


American Alsatian - F5
March 2, 2021

Kodiak


American Alsatian - F4
Oct. 5, 2018

Razar


American Alsatian - F4
Sept. 6, 2019
CH

Stanley


American Alsatian - F3
Oct. 7, 2017

Boss


American Alsatian - F2
Oct. 13, 2015

Hammer


American Alsatian - F1
Aug. 30, 2014

Woody

ROM

Nadine


American Alsatian - F3
Jan. 11, 2009

ROM

Blossom


American Alsatian - F1
Feb. 21, 2013

Rainier


Alaskan Malamute - Crossbreed
March 1, 2010

Autumn


American Alsatian - F3
Oct. 8, 2010

Shenanigan


American Alsatian - F2
Feb. 3, 2016

Finnegan


American Alsatian - F2
June 22, 2015

Otis (Lobo)


American Alsatian - F5
Aug. 28, 2012

Summer Rain


American Alsatian - F1
April 7, 2012

Teegan (Aurora)


American Alsatian - F1
July 23, 2014

Storm


American Alsatian - F1
Nov. 10, 2012

Princess


Labrador/Malamute cross - Crossbreed
July 4, 2012

Jengu


American Dirus - F4
Oct. 19, 2022

CH

Essex


American Dirus - F3
Nov. 7, 2019

CH

Triton

WW


American Alsatian - F2
July 23, 2018

Harpo


American Alsatian - F1
Feb. 3, 2017

Shennara


American Alsatian - F2
Nov. 11, 2016

Darla


American Alsatian - F3
Nov. 7, 2018

Topper


American Alsatian - F3
Jan. 11, 2018

ROM

Saigon


American Alsatian - F2
June 3, 2016

Mary


American Alsatian - F5
March 2, 2021

Kodiak


American Alsatian - F4
Oct. 5, 2018

Skipper


American Alsatian - F3
July 7, 2017

Anastasia


American Alsatian - F3
May 14, 2017

Razar


American Alsatian - F4
Sept. 6, 2019

Buck


American Alsatian - F3
Oct. 16, 2016

Ashley


American Alsatian - F3
Sept. 12, 2018
CH

Stanley


American Alsatian - F3
Oct. 7, 2017

Boss


American Alsatian - F2
Oct. 13, 2015

Hammer


American Alsatian - F1
Aug. 30, 2014

Woody

Rainier

Awhna

ROM

Nadine

Beamer

Isis

ROM

Blossom


American Alsatian - F1
Feb. 21, 2013

Rainier

Snow Cedar

Meadow

Autumn

Am Sel CH

Zorro

Missy

Shenanigan


American Alsatian - F2
Feb. 3, 2016

Finnegan


American Alsatian - F2
June 22, 2015

Otis (Lobo)

Vinny

Dingo

Summer Rain

Rainier

Autumn

Teegan (Aurora)


American Alsatian - F1
July 23, 2014

Storm

Rainier

ROM

Nadine

Princess

Jengu


American Dirus - F4
Oct. 19, 2022

CH

Essex


American Dirus - F3
Nov. 7, 2019

CH

Triton

WW


American Alsatian - F2
July 23, 2018

Harpo

Kerberos

Elwin

Shennara

Merlin (August West)

Corona

Darla


American Alsatian - F3
Nov. 7, 2018

Topper

Grinch (Barley)

Shennara

ROM

Saigon

Finnegan

Black Swan

Mary


American Alsatian - F5
March 2, 2021

Kodiak


American Alsatian - F4
Oct. 5, 2018

Skipper

Grinch (Barley)

Tina Turner

Anastasia

Boss

Vegas (Vega)

Razar


American Alsatian - F4
Sept. 6, 2019

Buck

Fremont

Belatrix

Ashley

Boss

Dorian
CH

Stanley


American Alsatian - F3
Oct. 7, 2017

Boss


American Alsatian - F2
Oct. 13, 2015

Hammer


American Alsatian - F1
Aug. 30, 2014

Woody


Wolfound/Malamute cross - Crossbreed
Feb. 10, 2013

Rainier

Snow Cedar

Meadow

Awhna

O'Malley

Kiera

ROM

Nadine


American Alsatian - F3
Jan. 11, 2009

Beamer

Am Sel CH

Zorro

Winnetka (Winny)

Beamer

Annie

ROM

Blossom


American Alsatian - F1
Feb. 21, 2013

Rainier


Alaskan Malamute - Crossbreed
March 1, 2010

Snow Cedar

Meadow

Autumn


American Alsatian - F3
Oct. 8, 2010

Am Sel CH

Zorro

Trucker

Sooner (Odessa)

Missy

Hero

Annie

Shenanigan


American Alsatian - F2
Feb. 3, 2016

Finnegan


American Alsatian - F2
June 22, 2015

Otis (Lobo)


American Alsatian - F5
Aug. 28, 2012

Vinny

Am Sel CH

Zorro

Luna

Dingo

Am Sel CH

Zorro

Pandora

Summer Rain


American Alsatian - F1
April 7, 2012

Rainier

Snow Cedar

Meadow

Autumn

Am Sel CH

Zorro

Missy

Teegan (Aurora)


American Alsatian - F1
July 23, 2014

Storm


American Alsatian - F1
Nov. 10, 2012

Rainier

Snow Cedar

Meadow

ROM

Nadine

Beamer

Isis

Princess


Labrador/Malamute cross - Crossbreed
July 4, 2012

Jengu


American Dirus - F4
Oct. 19, 2022

CH

Essex


American Dirus - F3
Nov. 7, 2019

CH

Triton

WW


American Alsatian - F2
July 23, 2018

Harpo


American Alsatian - F1
Feb. 3, 2017

Kerberos

Champ

Flower

Elwin

Torch

Ebony

Shennara


American Alsatian - F2
Nov. 11, 2016

Merlin (August West)

Hemingway (Hemi)

Lexi

Corona

Finnegan

Black Swan

Darla


American Alsatian - F3
Nov. 7, 2018

Topper


American Alsatian - F3
Jan. 11, 2018

Grinch (Barley)

Presley (Bear)

Skye

Shennara

Merlin (August West)

Corona

ROM

Saigon


American Alsatian - F2
June 3, 2016

Finnegan

Otis (Lobo)

Summer Rain

Black Swan

Storm

Rosie

Mary


American Alsatian - F5
March 2, 2021

Kodiak


American Alsatian - F4
Oct. 5, 2018

Skipper


American Alsatian - F3
July 7, 2017

Grinch (Barley)

Presley (Bear)

Skye

Tina Turner

Hammer

Sina (River)

Anastasia


American Alsatian - F3
May 14, 2017

Boss

Hammer

ROM

Blossom

Vegas (Vega)

Storm

Francis

Razar


American Alsatian - F4
Sept. 6, 2019

Buck


American Alsatian - F3
Oct. 16, 2016

Fremont

Rock

Vegas (Vega)

Belatrix

Merlin (August West)

Corona

Ashley


American Alsatian - F3
Sept. 12, 2018

Boss

Hammer

ROM

Blossom

Dorian

Boss

Shenanigan