The Giants Litter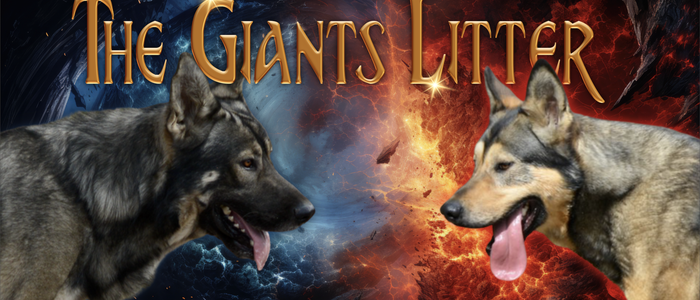 Puppies
About the Litter
Fe Fi Fo Fum!!
I smell the blood of a giant's son.
We expect the puppies from this litter to be extra-large to giant in size. Puppies should reach 29 to 31 inches tall at the shoulders and weigh 105 - 140 lbs as adults.
All ears should rise early with short, straight tails. Eyes will be highly slanted and range from brown to yellow. Some puppies will have thick fluffy coats while others will have short coats. No puppies will have furnishings (face whiskers) or feathering (long silky hair between the toes). We expect these puppies to have stocky, thick, muscular bodies with broad heads and a tapered muzzle, although some may be more lithe or athletically built. Short necks and straight-backed, rectangular body types are expected.
The following coat colors will be present in this litter:
50% silver wolf sable
50% gold wolf sable
75% black face
25% white face
No white spotting
TRUE GENTLE GIANTS!
All puppies will desire a close proximity of territory and not have a tendency to wander or roam. These puppies should be quiet without a tendency to bark, whine, or cry in a loud high-pitch. These giants will be sweet-natured, kind-hearted, loving, bonded, confident, submissive, intelligent, and considerate. True companion dogs with lower prey drives and calm minds.
This litter will have a 6.84% coefficient of inbreeding on a 5-generation pedigree and a 83.3% ancestor loss coefficient on a 4-generation pedigree. Both parents tested clear of over 200+ identified canine genetic diseases.
This is the one and only litter planned with this match. This is Vlad's last litter as he will be working as an active mobility dog after this.
If you want to reap the reward of over 30 meticulous years of breeding for health, temperament, and looks all wrapped into a sweet, loving GIANT companion DireWolf Dog with NO wolf content, then this is THE litter.
Puppies will range in price from $3800 - $4800.
Any exceptional puppies may be priced higher or not for sale.
This litter will NOT be repeated!
ONLY families on the waiting list will be eligible, so be prepared:
Pedigree
Count (Vlad)


American Dirus - F4
Nov. 1, 2021

Tsar (Malcolm)


American Alsatian - F3
April 20, 2019

Silver River


American Alsatian - F2
Jan. 3, 2018

Anastasia


American Alsatian - F3
May 14, 2017

Florin


American Alsatian - F3
May 25, 2020

CH

Triton

WW


American Alsatian - F2
July 23, 2018

Darla


American Alsatian - F3
Nov. 7, 2018

Jesse


American Dirus - F3
Sept. 22, 2021

Tudor


American Alsatian - F2
July 23, 2018

Yukon


American Alsatian - F1
Nov. 30, 2017

Anastasia


American Alsatian - F3
May 14, 2017

Razar


American Alsatian - F4
Sept. 6, 2019

Buck


American Alsatian - F3
Oct. 16, 2016

Ashley


American Alsatian - F3
Sept. 12, 2018
Count (Vlad)


American Dirus - F4
Nov. 1, 2021

Tsar (Malcolm)


American Alsatian - F3
April 20, 2019

Silver River


American Alsatian - F2
Jan. 3, 2018

Harpo

Aspen


American Alsatian - F2
March 10, 2017

Anastasia


American Alsatian - F3
May 14, 2017

Boss


American Alsatian - F2
Oct. 13, 2015

Vegas (Vega)


American Alsatian - F2
Jan. 7, 2015

Florin


American Alsatian - F3
May 25, 2020

CH

Triton

WW


American Alsatian - F2
July 23, 2018

Harpo


American Alsatian - F1
Feb. 3, 2017

Shennara


American Alsatian - F2
Nov. 11, 2016

Darla


American Alsatian - F3
Nov. 7, 2018

Topper


American Alsatian - F3
Jan. 11, 2018

ROM

Saigon


American Alsatian - F2
June 3, 2016

Jesse


American Dirus - F3
Sept. 22, 2021

Tudor


American Alsatian - F2
July 23, 2018

Yukon


American Alsatian - F1
Nov. 30, 2017

Boss


American Alsatian - F2
Oct. 13, 2015

Elwin


Alaskan Malamute - Crossbreed
May 20, 2016

Anastasia


American Alsatian - F3
May 14, 2017

Boss


American Alsatian - F2
Oct. 13, 2015

Vegas (Vega)


American Alsatian - F2
Jan. 7, 2015

Razar


American Alsatian - F4
Sept. 6, 2019

Buck


American Alsatian - F3
Oct. 16, 2016

Fremont


American Alsatian - F3
Oct. 13, 2016

Belatrix


American Alsatian - F2
Oct. 11, 2016

Ashley


American Alsatian - F3
Sept. 12, 2018

Boss


American Alsatian - F2
Oct. 13, 2015

Dorian


American Alsatian - F3
Nov. 7, 2017
Count (Vlad)


American Dirus - F4
Nov. 1, 2021

Tsar (Malcolm)


American Alsatian - F3
April 20, 2019

Silver River


American Alsatian - F2
Jan. 3, 2018

Harpo

Kerberos

Elwin

Aspen

Merlin (August West)

Lady Igraine

Anastasia


American Alsatian - F3
May 14, 2017

Boss

Hammer

ROM

Blossom

Vegas (Vega)

Storm

Francis

Florin


American Alsatian - F3
May 25, 2020

CH

Triton

WW


American Alsatian - F2
July 23, 2018

Harpo

Kerberos

Elwin

Shennara

Merlin (August West)

Corona

Darla


American Alsatian - F3
Nov. 7, 2018

Topper

Grinch (Barley)

Shennara

ROM

Saigon

Finnegan

Black Swan

Jesse


American Dirus - F3
Sept. 22, 2021

Tudor


American Alsatian - F2
July 23, 2018

Yukon


American Alsatian - F1
Nov. 30, 2017

Boss

Hammer

ROM

Blossom

Elwin

Torch

Ebony

Anastasia


American Alsatian - F3
May 14, 2017

Boss

Hammer

ROM

Blossom

Vegas (Vega)

Storm

Francis

Razar


American Alsatian - F4
Sept. 6, 2019

Buck


American Alsatian - F3
Oct. 16, 2016

Fremont

Rock

Vegas (Vega)

Belatrix

Merlin (August West)

Corona

Ashley


American Alsatian - F3
Sept. 12, 2018

Boss

Hammer

ROM

Blossom

Dorian

Boss

Shenanigan
Count (Vlad)


American Dirus - F4
Nov. 1, 2021

Tsar (Malcolm)


American Alsatian - F3
April 20, 2019

Silver River


American Alsatian - F2
Jan. 3, 2018

Harpo


American Alsatian - F1
Feb. 3, 2017

Kerberos

Champ

Flower

Elwin

Torch

Ebony

Aspen


American Alsatian - F2
March 10, 2017

Merlin (August West)

Hemingway (Hemi)

Lexi

Huck

Sprinkle

Anastasia


American Alsatian - F3
May 14, 2017

Boss


American Alsatian - F2
Oct. 13, 2015

Hammer

Woody

ROM

Nadine

ROM

Blossom

Rainier

Autumn

Vegas (Vega)


American Alsatian - F2
Jan. 7, 2015

Storm

Rainier

ROM

Nadine

Francis

Big Bear Taz

ROM

Nadine

Florin


American Alsatian - F3
May 25, 2020

CH

Triton

WW


American Alsatian - F2
July 23, 2018

Harpo


American Alsatian - F1
Feb. 3, 2017

Kerberos

Champ

Flower

Elwin

Torch

Ebony

Shennara


American Alsatian - F2
Nov. 11, 2016

Merlin (August West)

Hemingway (Hemi)

Lexi

Corona

Finnegan

Black Swan

Darla


American Alsatian - F3
Nov. 7, 2018

Topper


American Alsatian - F3
Jan. 11, 2018

Grinch (Barley)

Presley (Bear)

Skye

Shennara

Merlin (August West)

Corona

ROM

Saigon


American Alsatian - F2
June 3, 2016

Finnegan

Otis (Lobo)

Summer Rain

Black Swan

Storm

Rosie

Jesse


American Dirus - F3
Sept. 22, 2021

Tudor


American Alsatian - F2
July 23, 2018

Yukon


American Alsatian - F1
Nov. 30, 2017

Boss


American Alsatian - F2
Oct. 13, 2015

Hammer

Woody

ROM

Nadine

ROM

Blossom

Rainier

Autumn

Elwin


Alaskan Malamute - Crossbreed
May 20, 2016

Torch

Ebony

Anastasia


American Alsatian - F3
May 14, 2017

Boss


American Alsatian - F2
Oct. 13, 2015

Hammer

Woody

ROM

Nadine

ROM

Blossom

Rainier

Autumn

Vegas (Vega)


American Alsatian - F2
Jan. 7, 2015

Storm

Rainier

ROM

Nadine

Francis

Big Bear Taz

ROM

Nadine

Razar


American Alsatian - F4
Sept. 6, 2019

Buck


American Alsatian - F3
Oct. 16, 2016

Fremont


American Alsatian - F3
Oct. 13, 2016

Rock

Hammer

Sina (River)

Vegas (Vega)

Storm

Francis

Belatrix


American Alsatian - F2
Oct. 11, 2016

Merlin (August West)

Hemingway (Hemi)

Lexi

Corona

Finnegan

Black Swan

Ashley


American Alsatian - F3
Sept. 12, 2018

Boss


American Alsatian - F2
Oct. 13, 2015

Hammer

Woody

ROM

Nadine

ROM

Blossom

Rainier

Autumn

Dorian


American Alsatian - F3
Nov. 7, 2017

Boss

Hammer

ROM

Blossom

Shenanigan

Finnegan

Teegan (Aurora)