Monstro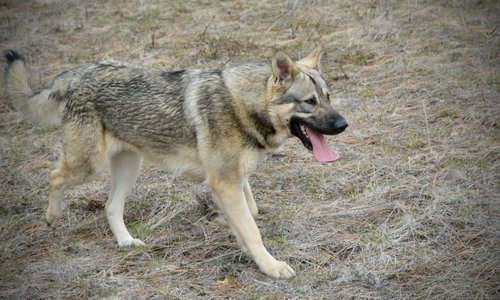 Monstro
| | |
| --- | --- |
| Registration Number: | DR4003-8 |
| Registry: | IADR |
| Call Name: | Monstro |
| Registrated Name: | Vallecito's Monstro |
| Titles: | |
| Breeder: | DireWolf Dogs of Vallecito |
| Breed: | American Dirus |
| Filial Number: | F4 |
| Birth Date: | April 23, 2022 |
| Sex: | Male |
| Collar Color: | Brown |
| Sire: | Black Dragon (Jagan) |
| Dam: | Razar |
| Litter: | Disney Villains Litter |
| DNA Record: | View DNA Record |
| | Call Name | Registered Name | Registration # | Birth Date | Sex | Sire | Dam | Breed | Filial # |
| --- | --- | --- | --- | --- | --- | --- | --- | --- | --- |
Monstro is extremely healthy. He has not had any tremors, seizures, weakness in the legs or feet, limping, panosteitis symptoms, issues with her eyes or ears, excessive scratching or other allergy symptoms, etc. He runs, jumps, lopes, lies down, etc without any difficulty. He has never showed signs of pain or any symptoms of illness at any time.  He is extremely healthy and vibrant.
Temperament Test #2
wagged tail when touched. Ruff pet: loose, calm, not moving forward or backward. LUp: loose and quiet during lift. Crying out but not moving, a little stiff. A touch of head shyness and grunting. Collar was tight during test. Kwustees in his eyes. Put back: went right to join other pups, no noise.
Temperament Test #1
Yellow puppy moved forward moving his head underneath his mother's body. He grunted softly during the rough pet. This puppy wiggled and flailed his arms and legs at the turn. He cried out and continued to flail for twenty seconds. After that, he stopped wiggling his body, but continued to grunt and whine throughout the turn. His legs remained somewhat stiff. This puppy scooted foward right away without turning. He made no noise. When he finally found his littermate, he settled down right away and went to sleep. He did not push into the pile of puppies. 
Birth Notes
EIGHTH PUPPY born at 1:08 pm is a medium-sized gold wolf gray male with minimal white spotting weighing in at 1 lbs 4 oz. He arrived head first with the sack breaking just inside the birth canal. His placenta appeared first and he was not attached to it. This male puppy settled right down into the crux of mother's arm and went to sleep. He has a small bit of white on the chest and toes only, otherwise he is a solid dark black pigmented puppy. This puppy also stood up onto all fours and walked forward two steps. Quite unusual. He simply fell asleep and rested quietly after the ordeal was over.
This puppy is a large gold wolf sable male with bright yellow eyes. He isn't as heavy as his two other brother, but his head is large and he has a thick build. This puppy has highly slanted yellow eyes with a gentle slope to his muzzle. He shows no white spotting. This puppy has a medium coat length without feathering. His ears are smaller in size and already on the rise. This puppy will have cheek fluffs. 
This puppy receives an overall conformation score of 8.5.