Dock of the Bay Litter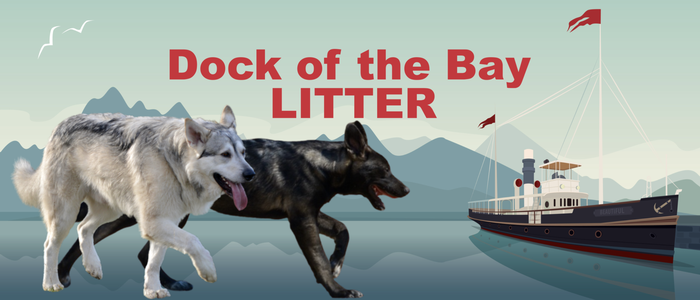 Puppies
About the Litter
I'm sittin' on the dock of the bay, watchin' the tide roll away. But, we aren't wastin' time with this litter! These puppies are going to be fantastic examples of the American Dirus breed. A mix of three different lines coming together in this one bunch of puppies. Stastically, the puppies from this litter will show the following coat colors:
25% black wolf sable
25% wolf sable w/ black mask
50% light wolf sable w/ white mask
Some puppies will have white spotting on their toes, tail tip, chest/belly, and possibly on the muzzle. Other puppies will not show any significant white spotting. Some puppies should show highly slanted, bright yellow eyes. Other puppies will have amber and brown eyes. All puppies should have medium to long double coat types without feathering. 50% of the puppies will have furnishings (longer catfish-like hairs on the side of the mouth). We expect ears to rise. Some tails will curl up when excited. Other puppies will have straighter tails. Some puppies will be giant in size, standing 30-31 inches tall at the shoulders and weighing 120 - 130 lbs as adults. Other puppies will be average in size, standing 27 - 29 inches tall at the shoulders and weighing 95 - 115 lbs as adults. Some puppies will be more confident than others. All puppies will be submissive and affectionate with their people. Some puppies may have more of a velcro type personality. All puppies should have a desire to remain at home and stay close without a desire to wander or roam. We will note any diviation from our unique family companion dog inherited temperament. Both parents have been DNA tested clear of over 172 genetically inherited canine diseases and have high immune diversity. The inbreeding coefficient for this litter is 8.56% on a five generation pedigree and six known COIs with 83.3% ancestor loss coefficient on a four generation pedigree. The puppies from this litter will be fourth generation (F4) American Dirus dogs. We are not looking to co-own any puppies from this litter, however, we must keep at least one black sable puppy from this litter to further the lines. 
Puppies will range in price from $3500 to $4800 for pet quality and more for breeding/show quality.
Any black puppies will be $4000 or higher.
Pedigree
CH

Essex


American Dirus - F3
Nov. 7, 2019

CH

Triton

WW


American Alsatian - F2
July 23, 2018

Harpo


American Alsatian - F1
Feb. 3, 2017

Shennara


American Alsatian - F2
Nov. 11, 2016

Darla


American Alsatian - F3
Nov. 7, 2018

Topper


American Alsatian - F3
Jan. 11, 2018

ROM

Saigon


American Alsatian - F2
June 3, 2016

Narissa


American Dirus - F4
April 23, 2022

Black Dragon (Jagan)


American Alsatian - F4
April 27, 2021

CH

Stanley


American Alsatian - F3
Oct. 7, 2017

Darla


American Alsatian - F3
Nov. 7, 2018

Razar


American Alsatian - F4
Sept. 6, 2019

Buck


American Alsatian - F3
Oct. 16, 2016

Ashley


American Alsatian - F3
Sept. 12, 2018
CH

Essex


American Dirus - F3
Nov. 7, 2019

CH

Triton

WW


American Alsatian - F2
July 23, 2018

Harpo


American Alsatian - F1
Feb. 3, 2017

Kerberos

Elwin


Alaskan Malamute - Crossbreed
May 20, 2016

Shennara


American Alsatian - F2
Nov. 11, 2016

Merlin (August West)


Shepherd/Malamute cross - F1
June 22, 2015

Corona


American Alsatian - F2
Nov. 27, 2014

Darla


American Alsatian - F3
Nov. 7, 2018

Topper


American Alsatian - F3
Jan. 11, 2018

Grinch (Barley)


American Alsatian - F3
Dec. 22, 2015

Shennara


American Alsatian - F2
Nov. 11, 2016

ROM

Saigon


American Alsatian - F2
June 3, 2016

Finnegan


American Alsatian - F2
June 22, 2015

Black Swan


American Alsatian - F1
Nov. 27, 2014

Narissa


American Dirus - F4
April 23, 2022

Black Dragon (Jagan)


American Alsatian - F4
April 27, 2021

CH

Stanley


American Alsatian - F3
Oct. 7, 2017

Boss


American Alsatian - F2
Oct. 13, 2015

Shenanigan


American Alsatian - F2
Feb. 3, 2016

Darla


American Alsatian - F3
Nov. 7, 2018

Topper


American Alsatian - F3
Jan. 11, 2018

ROM

Saigon


American Alsatian - F2
June 3, 2016

Razar


American Alsatian - F4
Sept. 6, 2019

Buck


American Alsatian - F3
Oct. 16, 2016

Fremont


American Alsatian - F3
Oct. 13, 2016

Belatrix


American Alsatian - F2
Oct. 11, 2016

Ashley


American Alsatian - F3
Sept. 12, 2018

Boss


American Alsatian - F2
Oct. 13, 2015

Dorian


American Alsatian - F3
Nov. 7, 2017
CH

Essex


American Dirus - F3
Nov. 7, 2019

CH

Triton

WW


American Alsatian - F2
July 23, 2018

Harpo


American Alsatian - F1
Feb. 3, 2017

Kerberos

Champ

Flower

Elwin

Torch

Ebony

Shennara


American Alsatian - F2
Nov. 11, 2016

Merlin (August West)

Hemingway (Hemi)

Lexi

Corona

Finnegan

Black Swan

Darla


American Alsatian - F3
Nov. 7, 2018

Topper


American Alsatian - F3
Jan. 11, 2018

Grinch (Barley)

Presley (Bear)

Skye

Shennara

Merlin (August West)

Corona

ROM

Saigon


American Alsatian - F2
June 3, 2016

Finnegan

Otis (Lobo)

Summer Rain

Black Swan

Storm

Rosie

Narissa


American Dirus - F4
April 23, 2022

Black Dragon (Jagan)


American Alsatian - F4
April 27, 2021

CH

Stanley


American Alsatian - F3
Oct. 7, 2017

Boss

Hammer

ROM

Blossom

Shenanigan

Finnegan

Teegan (Aurora)

Darla


American Alsatian - F3
Nov. 7, 2018

Topper

Grinch (Barley)

Shennara

ROM

Saigon

Finnegan

Black Swan

Razar


American Alsatian - F4
Sept. 6, 2019

Buck


American Alsatian - F3
Oct. 16, 2016

Fremont

Rock

Vegas (Vega)

Belatrix

Merlin (August West)

Corona

Ashley


American Alsatian - F3
Sept. 12, 2018

Boss

Hammer

ROM

Blossom

Dorian

Boss

Shenanigan
CH

Essex


American Dirus - F3
Nov. 7, 2019

CH

Triton

WW


American Alsatian - F2
July 23, 2018

Harpo


American Alsatian - F1
Feb. 3, 2017

Kerberos


American Alsatian - F3
Dec. 10, 2015

Champ

Otis (Lobo)

Tesla

Flower

Storm

Francis

Elwin


Alaskan Malamute - Crossbreed
May 20, 2016

Torch

Shennara


American Alsatian - F2
Nov. 11, 2016

Merlin (August West)


Shepherd/Malamute cross - F1
June 22, 2015

Hemingway (Hemi)

Rainier

Autumn

Lexi

Corona


American Alsatian - F2
Nov. 27, 2014

Finnegan

Otis (Lobo)

Summer Rain

Black Swan

Storm

Rosie

Darla


American Alsatian - F3
Nov. 7, 2018

Topper


American Alsatian - F3
Jan. 11, 2018

Grinch (Barley)


American Alsatian - F3
Dec. 22, 2015

Presley (Bear)

Storm

Dollar

Skye

Otis (Lobo)

Summer Rain

Shennara


American Alsatian - F2
Nov. 11, 2016

Merlin (August West)

Hemingway (Hemi)

Lexi

Corona

Finnegan

Black Swan

ROM

Saigon


American Alsatian - F2
June 3, 2016

Finnegan


American Alsatian - F2
June 22, 2015

Otis (Lobo)

Vinny

Dingo

Summer Rain

Rainier

Autumn

Black Swan


American Alsatian - F1
Nov. 27, 2014

Storm

Rainier

ROM

Nadine

Rosie

Rainier

Awhna

Narissa


American Dirus - F4
April 23, 2022

Black Dragon (Jagan)


American Alsatian - F4
April 27, 2021

CH

Stanley


American Alsatian - F3
Oct. 7, 2017

Boss


American Alsatian - F2
Oct. 13, 2015

Hammer

Woody

ROM

Nadine

ROM

Blossom

Rainier

Autumn

Shenanigan


American Alsatian - F2
Feb. 3, 2016

Finnegan

Otis (Lobo)

Summer Rain

Teegan (Aurora)

Storm

Princess

Darla


American Alsatian - F3
Nov. 7, 2018

Topper


American Alsatian - F3
Jan. 11, 2018

Grinch (Barley)

Presley (Bear)

Skye

Shennara

Merlin (August West)

Corona

ROM

Saigon


American Alsatian - F2
June 3, 2016

Finnegan

Otis (Lobo)

Summer Rain

Black Swan

Storm

Rosie

Razar


American Alsatian - F4
Sept. 6, 2019

Buck


American Alsatian - F3
Oct. 16, 2016

Fremont


American Alsatian - F3
Oct. 13, 2016

Rock

Hammer

Sina (River)

Vegas (Vega)

Storm

Francis

Belatrix


American Alsatian - F2
Oct. 11, 2016

Merlin (August West)

Hemingway (Hemi)

Lexi

Corona

Finnegan

Black Swan

Ashley


American Alsatian - F3
Sept. 12, 2018

Boss


American Alsatian - F2
Oct. 13, 2015

Hammer

Woody

ROM

Nadine

ROM

Blossom

Rainier

Autumn

Dorian


American Alsatian - F3
Nov. 7, 2017

Boss

Hammer

ROM

Blossom

Shenanigan

Finnegan

Teegan (Aurora)