Narissa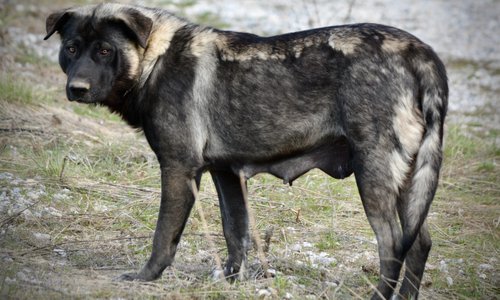 Narissa
For Sale - $1200.00
Please contact us directly by email if you are interested in learning more about Narissa.
jennifer@direwolfproject.com
| | |
| --- | --- |
| Registration Number: | DR4003-11 |
| Registry: | IADR |
| Call Name: | Narissa |
| Registrated Name: | Vallecito's Queen Narissa |
| Titles: | |
| Breeder: | DireWolf Dogs of Vallecito |
| Breed: | American Dirus |
| Filial Number: | F4 |
| Birth Date: | April 23, 2022 |
| Sex: | Female |
| Collar Color: | Blue |
| Sire: | Black Dragon (Jagan) |
| Dam: | Razar |
| Litter: | Disney Villains Litter |
| DNA Record: | View DNA Record |
| | Call Name | Registered Name | Registration # | Birth Date | Sex | Sire | Dam | Breed | Filial # |
| --- | --- | --- | --- | --- | --- | --- | --- | --- | --- |
| View | Levee (Dianne W) | Vallecito's Levee | EN4001-4 | 2023-Feb-09 | Male | Essex | Narissa | American Dirus | F4 |
| View | Jetty (Aaron) | Vallecito's Jetty | EN4001-3 | 2023-Feb-09 | Female | Essex | Narissa | American Dirus | F4 |
| View | Lock | Vallecito's Lock | EN4001-6 | 2023-Feb-09 | Male | Essex | Narissa | American Dirus | F4 |
| View | Harbor (Vicki Mc) | Vallecito's Harbor | EN4001-5 | 2023-Feb-09 | Female | Essex | Narissa | American Dirus | F4 |
Narissa is extremely healthy. She has not had any tremors, seizures, weakness in the legs or feet, limping, panosteitis symptoms, issues with her eyes or ears, excessive scratching or other allergy symptoms, soft stools, etc. She runs, jumps, lopes, lies down, etc without any difficulty. She has never showed signs of pain or any symptoms of illness at any time. She is extremely healthy and vibrant. Narissa has been DNA tested with 25% inbreeding and high immune diversity. 5/15/2023: Narrisa was diagnosed with hypothyroidism. She will be spayed. She had one litter. The Dock of the bay Litter.
Temperament Test #2
Ruff pet: sitting still, lowering head. No noise. Backed up just a little. Lup: still and quiet and loose, still and quiet and loose at the turn. Put back: sniffing around, looked all around without moving, licked handler's hand.
Temperament Test #1
Blue puppy moved her body forward with her legs and her head from side to side. No noise. This puppy lifted her legs into a ball and flailed them around. She cried out forcefully and tried to right herself when turned. This puppy moved forward straight away and back to the puppy pile, pushing into the pile. No noise.
Birth Notes
ELEVENTH PUPPY born at 4:00 pm is a large jet black female with minimal white spotting weighing in a 1 lb 7 oz. We might just have another contender for the Dire Wolf Project here. She came out into the world head first with her sack broken upon delivery. She is a long female with a solid structure. She has a long thin white line down her abdomen. Her toes are white with a few white hairs on her tail. She also has some white on her chin. She is quiet and malleable at this time. Depending on her personality, we will likely consider keeping this one.
This puppy is a large black wolf sable female with bright yellow eyes. She has a shorter coat with no feathering. Her ears are small and already almost erect. She shows a little gold in the undertones of her black coloring, so she will likely produce puppies that have gold undertones, just like her mother, Razar. This puppy is light in weight and not as hefty or bulky as some of the other puppies. This puppy will likely not reach 100 lbs. She has a curled tail and minimal white spotting. Ticking can be seen amidst the white coloring, as well. 
This puppy receives an overall conformation score of 8.