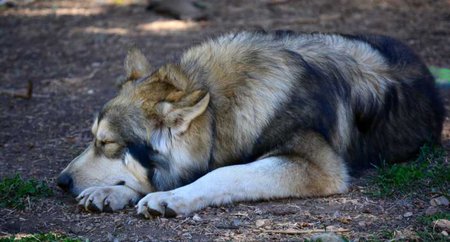 We are always happy to provide the best in quality service to you and your family, as well as the assurance that we breed only the best dogs within our breed. It thrills us you are considering adopting an American Dirus puppy or dog from us. It will be an exciting journey as we work together to bring you the companion you've always wanted. However, before the process can officially begin, we require that you agree to the following terms and conditions regarding placing a nonrefundable deposit down with DireWolf Dogs of Vallecito, LLC. 
We require nonrefundable deposits for 4 reasons:
To guarantee that your family will gain an American Dirus puppy from DireWolf Dogs of Vallecito, LLC.
To guarantee, per your deposit date, your placement for choosing an American Dirus puppy from our litters.
To allow us the immediate funds to continue breeding with attention to detail.
To help us attain only the most committed families, who will take great care of their new companion, as we are just as committed to all the lives of our puppies as you are.
Terms and Conditions
By choosing DireWolf Dogs of Vallecito, LLC, you agree that the $600 deposit you send to us is nonrefundable and therefore will not be returned to you for any reason. 
When you place a deposit with us, we guarantee you a puppy from us in the future. We will get you that puppy you want! It is our commitment to you. You are not, however, guaranteed a puppy from a particular litter. We will do everything in our power to honor your wishes of a puppy from the litter you choose, but we cannot predict mother nature.  
You further agree that if the planned breeding of your choice does not result in puppies or a puppy that suits your needs, we may keep your deposit for a puppy from a future litter which may be undetermined. If the above situation arises, we will place your name on a waiting list with your deposit date intact until you select another litter of your choice, or a puppy arrives that works for your family.  
You agree that, because of the unpredictable nature of breeding animals, there shall be no time limit. While we take every precaution when setting up a breeding pair, we cannot predict when puppies will become available or when that perfect puppy you've always wanted will present itself. 
You also agree that you shall not request your deposit back for any reason and that by sending a $600 deposit to DireWolf Dogs of Vallecito, LLC, you allow us to use your deposit as needed to produce the best puppies we can.  
We will get you that puppy! It is not our business to take your money for nothing. We are committed to you and your family and appreciate your patience as we continue to breed great large breed companion dogs.