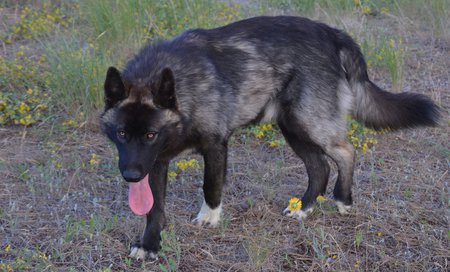 The American Dirus is a large breed family companion dog. Here are the qualities of a dog breed created as a companion dog and nothing more.
The companion dog:
Must be our friend for as long as possible without major health concerns that cause us shared pain.  
Must want to please and be with us. This allows a bonded relationship to form between the human and canine species, furthering our connection to our wild roots.  
Must not have destructive tendencies. Barking excessively, whining, digging up the flower bed, jumping over 6-foot fences, wandering the neighborhood, ruining the house when you are away, getting into the garbage, or chasing animals can cause turmoil in our human world.
Must not be aggressive or fearful. Instead, a companion dog should remain calm and confident when meeting new challenges such as people, other dogs, scary noises, etc.
Dire Wolf Project breeders capture these qualities in a companion dog, always breeding with these things in mind. (We worry about the looks part after the other things are solid.) That is why we can guarantee our dogs when breeders of other dog breeds cannot. We honor our guarantee. What we mean, we say. It would not be good business sense to guarantee these things unless they were really rare events. Although this breed is not exempt from health issues, they are rare. When they occur, if they occur, we honor our guarantee every time. This keeps us honest and cautious in our breeding. It also means you are happy with your healthy new pup.   
---
FYI: Under no circumstances will the purchase price of the puppy be returned. 
---
General Puppy Guarantee:
When you acquire an American Dirus from DireWolf Dogs of Vallecito, we guarantee it to be in good health to the best of our knowledge.  A health guarantee written by a licensed veterinarian will be extended to you for 5 business days (plan ahead), at which time you must have your new puppy checked by your own licensed veterinarian.  If your veterinarian finds anything seriously wrong with your new puppy (meaning it will parish or live in severe pain* if not dealt with medically) it will be exchanged for another dog of equal value of the customer's choice, at once or when available, provided a letter from the examining veterinarian is offered as evidence of the puppy's illness.  You then agree to sign back registration and return the dog sold to us, if we so desire.
DireWolf Dogs of Vallecito also extends a health guarantee to you for the life of your American Dirus or 12 years whichever comes first.  If a licensed veterinarian finds a dog from us to have a serious illness (see above) due to genetic reasons anytime between the time you buy your new puppy and its 9th birthday, it will be replaced with another American Dirus from our kennels of equal value of your choice, when available, provided a letter from the examining veterinarian is offered as evidence of the dog's serious genetic illness.  We reserve the right to personally exam the dog before awarding this guarantee.  The dog will then not need to be returned to us as we understand that a pet is a family member and that you are attached and bonded.  
If an American Dirus from our kennels is found by a licensed veterinarian to have a serious genetic illness that is detrimental to its health (see above) after its 9th birthday (the life expectancy of many other large dogs) but not exceeding 12 years, DireWolf Dogs of Vallecito will extend to you a credit for half the price of your original dog to go toward another American Dirus of your choice.   Again, we reserve the right to personally exam the dog before awarding this guarantee.  The dog will not need to be returned to us.
We assume no responsibility for your dog beyond this guarantee after leaving the premises of DireWolf Dogs of Vallecito.
Show Quality Puppy Guarantee Only:
A show quality puppy may also be replaced by another puppy of equal quality/value if the following disqualifying faults appear. 
Bad temperament: This must be able to be proven that it came from genetics and not from training.
Hanging ears:  If weakness is noted after 6 months of age, the buyer is urged to contact the breeder for advice on taping.  Under no circumstances will the dog be considered as having soft ears until one year of age, and must be proven by a licensed veterinarian as a permanent condition due to heredity and not injury, poor care, or mistreatment.
Monorchidism or cryptorchidism: if your male show puppy's testicles do not hang properly your pup will be replaced.
* Severe pain is defined as pain that interferes with most or all of the activities of daily living. May cause confinement because of the severity. Typically doesn't go away, and treatment needs to be continuous for days, weeks, months, or years. Severe pain – whether acute or chronic – causes stress on the whole body that can become life threatening. This can be easily measured by increased pulse rate, elevated blood pressure, and dilated pupil size.