Celestial Beings Litter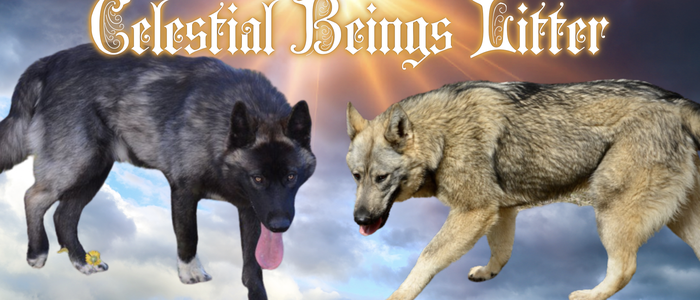 Puppies
About the Litter
Prepare to meet the sweetest heavenly creatures on planet earth!
This litter has it all... except for giant size. EVERYTHING else we are striving to achieve at the Dire Wolf Project will be present in this litter: superior health and genetic diversity, excellent calm and loving companion dog temperaments, and that incredibly beautiful wild wolf look!
OUT OF THIS WORLD amazing litter coming up!
We expect this litter to be extra large in size, but not giant. Puppies will reach 26 to 27 inches tall at the shoulders and weigh 90 - 100 lbs as adults. All ears will rise early with short, straight fluffy tails. Eyes will be highly slanted and range from light brown to yellow. All puppies will have thick fluffy coat that shed easily, with some puppies showing feathering on their legs adding more length in a plush-coated look. Puppies will have stocky, thick, heavy bodies with broad heads and a tapered muzzle. Short necks and straight, square body types are expected. The following coat colors will be present in this litter: black wolf sable, silver wolf sable, and black/silver-pointed. We expect black mask, wolf mask, and white mask varieties to rain down from above.
All puppies will desire a close proximity of territory and not have a tendency to wander or roam. Some puppies may be more vocal than other puppies, talking about their exploits and sharing their feelings. These little angelic cherubs will be sweet-natured, kind-hearted, loving, bonded, confident, submissive, intelligent, considerate. True companion dogs with lower prey drives and calm minds.
This is a genetically diverse litter with a 3% coefficient of inbreeding on a 5 generation pedigree and a 100% ancestor loss coefficient on a 4 generation pedigree. In other words, no inbreeding for four generations, then only one ancestor doubled in five generations. High genetic diversity is linked to increased longevity and a healthier immune system. Both parents tested clear of over 200+ identified canine genetic diseases.
This is the litter of the decade, right here!
If you don't have to have giant size, but want that amazing wolfish look with NO wolf content, this litter is it!
If the puppies are stellar, as we suspect, we will repeat this litter. However, we may use these puppies to start the Surrogate Breeder Program™, so if you want a puppy from this litter, do not delay in letting us know so that we can get a good idea of the interest for this litter.
If you want to reap the reward of over 30 meticulous years of breeding for health, temperament, and looks all wrapped into a sweet, loving companion wolf-like dog with NO wolf content, then this is THE litter.
Puppies will range in price from $4800 - $6500.
Pedigree
CH

Stanley


American Alsatian - F3
Oct. 7, 2017

Boss


American Alsatian - F2
Oct. 13, 2015

Hammer


American Alsatian - F1
Aug. 30, 2014

ROM

Blossom


American Alsatian - F1
Feb. 21, 2013

Shenanigan


American Alsatian - F2
Feb. 3, 2016

Finnegan


American Alsatian - F2
June 22, 2015

Teegan (Aurora)


American Alsatian - F1
July 23, 2014

Clementine


American Dirus - F4
June 7, 2022

CH

Essex


American Dirus - F3
Nov. 7, 2019

CH

Triton

WW


American Alsatian - F2
July 23, 2018

Darla


American Alsatian - F3
Nov. 7, 2018

Meriwether


American Dirus - F5
March 2, 2021

Kodiak


American Alsatian - F4
Oct. 5, 2018

Razar


American Alsatian - F4
Sept. 6, 2019
CH

Stanley


American Alsatian - F3
Oct. 7, 2017

Boss


American Alsatian - F2
Oct. 13, 2015

Hammer


American Alsatian - F1
Aug. 30, 2014

Woody

ROM

Nadine


American Alsatian - F3
Jan. 11, 2009

ROM

Blossom


American Alsatian - F1
Feb. 21, 2013

Rainier


Alaskan Malamute - Crossbreed
March 1, 2010

Autumn


American Alsatian - F3
Oct. 8, 2010

Shenanigan


American Alsatian - F2
Feb. 3, 2016

Finnegan


American Alsatian - F2
June 22, 2015

Otis (Lobo)


American Alsatian - F5
Aug. 28, 2012

Summer Rain


American Alsatian - F1
April 7, 2012

Teegan (Aurora)


American Alsatian - F1
July 23, 2014

Storm


American Alsatian - F1
Nov. 10, 2012

Princess


Labrador/Malamute cross - Crossbreed
July 4, 2012

Clementine


American Dirus - F4
June 7, 2022

CH

Essex


American Dirus - F3
Nov. 7, 2019

CH

Triton

WW


American Alsatian - F2
July 23, 2018

Harpo


American Alsatian - F1
Feb. 3, 2017

Shennara


American Alsatian - F2
Nov. 11, 2016

Darla


American Alsatian - F3
Nov. 7, 2018

Topper


American Alsatian - F3
Jan. 11, 2018

ROM

Saigon


American Alsatian - F2
June 3, 2016

Meriwether


American Dirus - F5
March 2, 2021

Kodiak


American Alsatian - F4
Oct. 5, 2018

Skipper


American Alsatian - F3
July 7, 2017

Anastasia


American Alsatian - F3
May 14, 2017

Razar


American Alsatian - F4
Sept. 6, 2019

Buck


American Alsatian - F3
Oct. 16, 2016

Ashley


American Alsatian - F3
Sept. 12, 2018
CH

Stanley


American Alsatian - F3
Oct. 7, 2017

Boss


American Alsatian - F2
Oct. 13, 2015

Hammer


American Alsatian - F1
Aug. 30, 2014

Woody

Rainier

Awhna

ROM

Nadine

Beamer

Isis

ROM

Blossom


American Alsatian - F1
Feb. 21, 2013

Rainier

Snow Cedar

Meadow

Autumn

Am Sel CH

Zorro

Missy

Shenanigan


American Alsatian - F2
Feb. 3, 2016

Finnegan


American Alsatian - F2
June 22, 2015

Otis (Lobo)

Vinny

Dingo

Summer Rain

Rainier

Autumn

Teegan (Aurora)


American Alsatian - F1
July 23, 2014

Storm

Rainier

ROM

Nadine

Princess

Clementine


American Dirus - F4
June 7, 2022

CH

Essex


American Dirus - F3
Nov. 7, 2019

CH

Triton

WW


American Alsatian - F2
July 23, 2018

Harpo

Kerberos

Elwin

Shennara

Merlin (August West)

Corona

Darla


American Alsatian - F3
Nov. 7, 2018

Topper

Grinch (Barley)

Shennara

ROM

Saigon

Finnegan

Black Swan

Meriwether


American Dirus - F5
March 2, 2021

Kodiak


American Alsatian - F4
Oct. 5, 2018

Skipper

Grinch (Barley)

Tina Turner

Anastasia

Boss

Vegas (Vega)

Razar


American Alsatian - F4
Sept. 6, 2019

Buck

Fremont

Belatrix

Ashley

Boss

Dorian
CH

Stanley


American Alsatian - F3
Oct. 7, 2017

Boss


American Alsatian - F2
Oct. 13, 2015

Hammer


American Alsatian - F1
Aug. 30, 2014

Woody


Wolfound/Malamute cross - Crossbreed
Feb. 10, 2013

Rainier

Snow Cedar

Meadow

Awhna

O'Malley

Kiera

ROM

Nadine


American Alsatian - F3
Jan. 11, 2009

Beamer

Am Sel CH

Zorro

Winnetka (Winny)

Beamer

Annie

ROM

Blossom


American Alsatian - F1
Feb. 21, 2013

Rainier


Alaskan Malamute - Crossbreed
March 1, 2010

Snow Cedar

Meadow

Autumn


American Alsatian - F3
Oct. 8, 2010

Am Sel CH

Zorro

Trucker

Sooner (Odessa)

Missy

Hero

Annie

Shenanigan


American Alsatian - F2
Feb. 3, 2016

Finnegan


American Alsatian - F2
June 22, 2015

Otis (Lobo)


American Alsatian - F5
Aug. 28, 2012

Vinny

Am Sel CH

Zorro

Luna

Dingo

Am Sel CH

Zorro

Pandora

Summer Rain


American Alsatian - F1
April 7, 2012

Rainier

Snow Cedar

Meadow

Autumn

Am Sel CH

Zorro

Missy

Teegan (Aurora)


American Alsatian - F1
July 23, 2014

Storm


American Alsatian - F1
Nov. 10, 2012

Rainier

Snow Cedar

Meadow

ROM

Nadine

Beamer

Isis

Princess


Labrador/Malamute cross - Crossbreed
July 4, 2012

Clementine


American Dirus - F4
June 7, 2022

CH

Essex


American Dirus - F3
Nov. 7, 2019

CH

Triton

WW


American Alsatian - F2
July 23, 2018

Harpo


American Alsatian - F1
Feb. 3, 2017

Kerberos

Champ

Flower

Elwin

Torch

Ebony

Shennara


American Alsatian - F2
Nov. 11, 2016

Merlin (August West)

Hemingway (Hemi)

Lexi

Corona

Finnegan

Black Swan

Darla


American Alsatian - F3
Nov. 7, 2018

Topper


American Alsatian - F3
Jan. 11, 2018

Grinch (Barley)

Presley (Bear)

Skye

Shennara

Merlin (August West)

Corona

ROM

Saigon


American Alsatian - F2
June 3, 2016

Finnegan

Otis (Lobo)

Summer Rain

Black Swan

Storm

Rosie

Meriwether


American Dirus - F5
March 2, 2021

Kodiak


American Alsatian - F4
Oct. 5, 2018

Skipper


American Alsatian - F3
July 7, 2017

Grinch (Barley)

Presley (Bear)

Skye

Tina Turner

Hammer

Sina (River)

Anastasia


American Alsatian - F3
May 14, 2017

Boss

Hammer

ROM

Blossom

Vegas (Vega)

Storm

Francis

Razar


American Alsatian - F4
Sept. 6, 2019

Buck


American Alsatian - F3
Oct. 16, 2016

Fremont

Rock

Vegas (Vega)

Belatrix

Merlin (August West)

Corona

Ashley


American Alsatian - F3
Sept. 12, 2018

Boss

Hammer

ROM

Blossom

Dorian

Boss

Shenanigan